Cover Traditional Math Concepts One Lesson at a Time with Bob Jones Math 4
Lessons in BJU Press Math 4 are organized by topic chapters.
The daily lessons are focused on one topic with word type problems scattered throughout the lessons as appropriate.
At the end of each chapter are Daily Reviews, Chapter Reviews, and Cumulative Review.
If you need a consumable math workbook that focuses on one topic at a time with some review, then BJU Press Math 4 should work for your student.
It is available in a homeschool kit with all the components for one student and one teacher.
Math 4 Homeschool Kit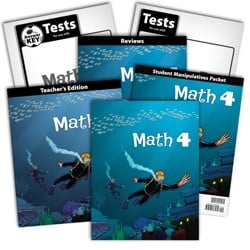 BJU Press Math 4 Homeschool Kit 3rd Edition
Item #bju511816
The Bob Jones University Press Math 4 Homeschool Kit 3E includes one of each of the following items:
Math 4 Teacher's Edition/CD 3rd Ed
[#260109, ISBN-13: 9781591668954]

Chapter Overviews with teaching tips
Reduced student pages with answers overprinted in bold font.
Chapter Review Lessons and Cumulative Reviews
Worktext Handbook
Daily Review pages answer key
Teacher's Toolkit CD-ROM includes printer-friendly teaching charts, Reviews Book Answer Key, Enrichment Pages for the advanced student, ReTeaching pages for the struggling student, and more resources.

Math 4 Student Worktext 3rd Ed 
[#296814, ISBN-13: 9781606828144]

Organized by topic chapters.
Daily lessons are focused on one topic with word type problems scattered throughout the lessons as appropriate.
At the end of each chapter are Daily Reviews, Chapter Reviews, and Cumulative Review.
It is very visual with small illustrated examples where appropriate.
The illustrations are tasteful and well placed.

Math 4 Reviews 3rd Ed. offers two review pages for each lesson and a chapter review at the end of each chapter.
[#260158, ISBN-13: 9781591668985]

Use anytime after the lesson is taught.
Concepts from the lesson are reviewed on the first page.
The second page gives facts practice and reviews concepts from previous lessons.
Beneficial for the student who needs extra practice to master math concepts.
For homeschoolers, I think you could also use it over the summer to review what the student has learned during the year and to make sure the concepts were mastered before moving to the next grade.

Math 4 Math 4-6 Student Manipulative Packet, 3rd Ed. is used in grades 4-6. We suggest storing in a big envelope or zip bag for frequent use.
[#269506, ISBN-13: 9781606820315]

Printed on sturdy tagboard, the colorful manipulatives are perforated for easy preparation.
They are reusable. Save them in a large envelope, zippy baggie or folder to use in other grades or with other children.
Hands-on and visual learners will like these.
The Math 4-6 Student Manipulative Packet includes:

Geometric shapes
Rulers
Clock
Thermometer
Number Cards
Fraction Kit,
Money Kit
Place Value Kits and Mats
Measurement Flashcards
Multiplication/Division Fact Family Cards (triangle shaped kind)

Math 4 Tests 3rd Edition has 16 chapter tests for that are similar to the corresponding Chapter Review pages in the Student Worktext. (Consumable)
[#260117, ISBN-13: 9781591668961]
Math 4 Test Answer Key 3rd Edition has answers, shown in a bold font, overprinted on exact copies of each student test.
[#260125, ISBN-13: 9781591668978]
More BJU Press Math Homeschool Kits at LampPostHomeschool.com