Teach Consumer Math At Home With A Complete Christian-based Homeschool Set for 7th-12 Grades

Emphasizing mastery of mathematical applications for daily use, everything you need for one student and one teacher is in the complete LIFEPAC Consumer Math Boxed Set.
One of our local teacher/homeschool evaluators used Consumer Math with her daughter. She gave it a thumbs up for the effectiveness of the program, the layout of the student workbooks, and the worked out solutions in the Consumer Math Solution Key.
Consumer Math Set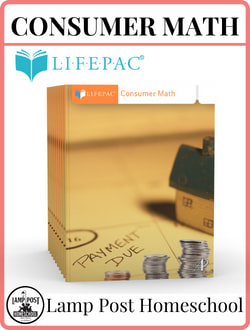 LIFEPAC Elective Consumer Math Set
Price $89.50
Use Coupon Code DiscountAOP for the best discount on this item.


LIFEPAC Elective Consumer Math Set
ISBN-13: 9780740303302
Item #ES2315
Topics in Consumer Math include:
Creative Arithmetic
Fractions, Decimals, and Percents,
Family Finances 1
Family Finances 2
Construction and Building Trades
Service Occupations
Transportation
Business Services
Occupational Diagrams
Consumer Math Review
Mathematical applications for daily use. Family finances, occupations, business, and transportation.
Note: The LIFEPAC Consumer Math Solution Key has answers to the problems (worked out solutions where applicable.) It is not the typical Teacher's Guide found in the other LIFEPACs. There is not a separate teacher guide with lesson plans for Consumer Math.
For grades 7-12, it is a one year course with 10 LIFEPACs and a Solution Key. LIFEPAC Consumer Math is designed for use after Algebra 1 and Geometry are completed.
Price $89.50
Use Coupon Code DiscountAOP for the best discount on this item.


---
LIFEPACs® is a registered trademark of Alpha Omega Publications.
**The discount will be taken off the in the shopping cart after you apply the homeschool coupon code. Add in one time to discount on all Alpha Omega Curriculum including Horizons, LIFEPACs, and Calvert curriculum in your shopping cart. Can not be combined with any other coupon codes and excludes items marked clearance.