Find Information about Homeschooling and State Laws
On this page, you'll find helpful links to information about homeschooling in general and homeschool information by state.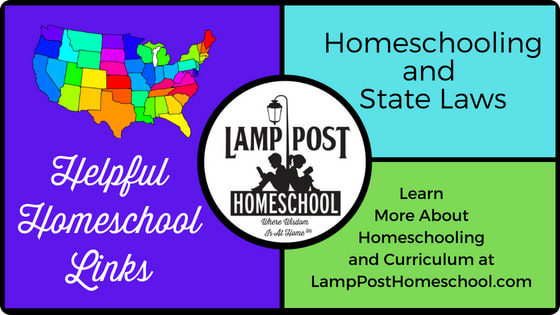 If you would like to recommend a helpful homeschool link that is compatible with our website, please contact us! Thanks!
Join HSLDA (Home School Legal Defense Association)
We recommend that homeschooling families join HSLDA. Even if you never experience legal trouble yourself, your HSLDA membership will help enable other homeschooling families to get the legal help they need and will help defend our right to homeschool in the USA.
Lamp Post Homeschool Store members save on the HSLDA membership price when you enter our Discount Group code 299738 on the HSLDA membership form!

Group Name: Lamp Post Homeschool Store
Group Number: 299738
Use our group number to get a $15.00 discount on your membership with HSLDA!
What does joining HSLDA do for me?
Protects your right to homeschool and defends your family. A lawyer is on call 24/7.
Provides fast help by phone or email: Get direct answers to your specific questions about home education. Veteran homeschooling parents are available to answer your questions and help you find resources for teaching your children:

Toddlers to Tweens (PreK-8th grade)
High school (including preparing for college or career paths)
Struggling learners (special needs/gifted and talented)

Preserves homeschool freedom for all families by promoting homeschooling nationwide, as well as by working with state homeschooling groups to pass homeschool-friendly legislation and stop unfavorable bills at the state and federal levels.
Partners you with the cause: Although homeschooling is recognized in every state, HSLDA receives phone calls each day from families whose right to homeschool is being challenged or discriminated against by school officials, child protective services investigators, employers, colleges, armed services recruitment officers, and government bureaucrats. By joining HSLDA, you are supporting families who are fighting for their right to homeschool today and standing together to preserve homeschooling freedom for tomorrow.
Other Valuable Benefits
News and resources
Magazine—Our quarterly member magazine, the Home School Court Report, brings you news, case updates, what's happening in your state, and other helpful resources.
Weekly updates and e-lerts—Stay on top of the latest homeschooling news and take action on homeschooling-related legislation in your state or the nation.
E-newsletters—Our early years, high school, and special needs e-newsletters are specifically designed to help you with your homeschooling challenges.
Shopping
HSLDA Online Academy—Enjoy $50–$100 in savings on every online Advanced Placement course your high schooler takes through the academy.
HSLDA Store—Look for special member pricing throughout HSLDA's online store.
HSLDA PerX program—Take advantage of exclusive member discounts and offers from national products and services.
Help for Christian families homeschooling special needs children.
About Homeschooling in Your State
If you would like us to list your state organization on this page, please contact us!
Alabama
Alaska
Arizona
Arkansas
California
Colorado
Connecticut
Delaware
Florida
Georgia
Hawaii
Idaho
Illinois
Indiana
Iowa
Kansas
Kentucky
Louisiana
Home Study Page at the Louisiana Department of Education Information about home study at the Louisiana Believes website—a comprehensive listing of all the different options for educating your child in Louisiana (public schools, nonpublic schools, home study, and other school choices.)
Maine
Maryland
Massachusetts
Michigan
Minnesota
Mississippi
Missouri
Montana
Nebraska
Nevada
New Hampshire
New Jersey
New Mexico
New York
North Carolina
North Dakota
Ohio
Oklahoma
Home School Page at OSDE Resources for parents educating their children at home from the Oklahoma State Department of Education. There is a wealth of excellent information and links on this page.
Oregon
Pennsylvania Links
Pennsylvania Homeschool Diploma Options
UPDATE: Supervisor-Issued Home Education Diploma (PDE 6008) and Definitions (PDF)

If you and your student complied with and followed the Pennsylvania Homeschool Law, then your student can now graduate with a certified Pennsylvania State Diploma that will be signed by your evaluator and the supervisor of your homeschool!
We suggest printing the form on nice quality acid-free paper for a long lasting high school diploma before you fill it out or have it signed.
This is the least complicated, easiest, and recommended option at this time.

Other PA Homeschool Diploma Options

For those of you who live in Pennsylvania, there is the option to obtain a state-recognized high school diploma through one of the following groups. Most states don't have this opportunity, and it is not a requirement to get into most colleges.
Personally, we give our diplomas and keep transcripts ourselves. All our homeschool graduates who applied were accepted into colleges without a state-recognized diploma—except our last child who graduated after the new PA law went into effect. He has the official Pennsylvania diploma that is signed by our evaluator.
When would I recommend that you get into one of these programs? Mainly if you aren't too keen on the idea of making a high school transcript and keeping those records, this option is a good choice.
You need to research the possibilities and see what is best for your student.
Here is a link to diploma granting organizations in Pennsylvania: Diploma-Granting Organizations
North Central Pennsylvania Links
Rhode Island
South Carolina
South Dakota
Tennessee
Texas
Utah
Vermont
Virginia Links
Home Instruction in Virginia
HEAV The Home Educators Association of Virginia operates within the context of a biblical worldview and served homeschool families in Virginia.
The Organization of Virginia Homeschoolers A fully inclusive, member directed, and volunteer driven state association, VaHomeschoolers is neutral in matters of religion and partisan politics. This site has helpful information about homeschooling in Virginia.
Washington
West Virginia
Wisconsin
Wyoming