What's Available to Homeschool My Children?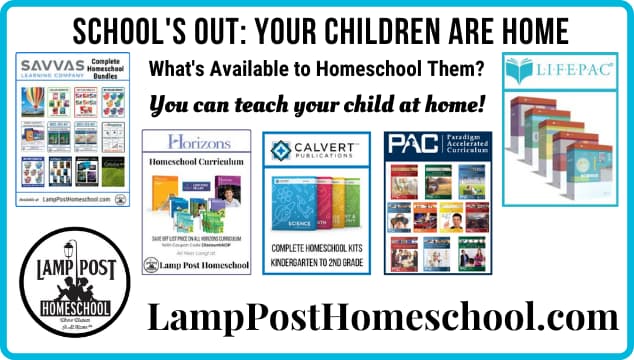 There's no need to hit the panic button when plenty of online learning and digital homeschool courses available when you decide to start homeschooling.
NOTE: You are the teacher and have the responsibility to keep records of your child's learning. It sounds scary, but you will need to check the homeschool laws of your state. Laws are different in each state—requirements vary from a lot of record-keeping/documentation to little or none.
Lamp Post Homeschool Has Options For Teaching Your Children at Home
Different programs are available when you want complete kits that include all the components for one student and one teacher.
Complete kit options include: print components, online courses, digital downloads, USB software, or various combinations.
Digital Downloads
You will receive a link to download PDF files and save on your device (PC or tablet).
Typically, you can use the free Adobe Reader to read the content on your computer or to print paper copies from your printer.
These courses usually cost less than print versions.
Make copies as you need them for your family.
Once you download the files, you won't need internet access unless the course offers optional links to additional information sites.
Online Courses (Mixed Print and Online Subscriptions)
These courses are usually combinations of print (the textbook) and one-year online subscriptions for the student and teacher.
Usually, the print portion is the student text, but the trend is moving to online texts.
The teacher component is a one-year online subscription ties to the student's online subscription.
Sometimes teacher assessments are printable or available for separate purchase.
The teacher will set up and oversee the student's online portion.
Automatically grades online work—usually with instant feedback.
The teacher will grade student essays, projects, etc. manually.
Most courses are for one-year, but some are for one-semester.
Language Arts Print & Digital Combos
Mathematics Print & Digital Combos
Science Print & Digital Combos
Social Studies Print & Digital Combos
Print Courses
Go traditional with complete homeschool packages—print versions. It includes everything you need for one student and one teacher. When you want to limit screen time with academically proven courses, print bundles cover all the bases.