Teach High School Biology at home with a complete secular-based biology package—including print and digital content.
The new Miller & Levine Biology homeschool bundle is here! Developed by two preeminent biologists and passionate educators, Ken Miller and Joe Levine, this blended print and digital curriculum immerses homeschool students in biological inquiry. [NOTE: This is a secular science curriculum.] [Features…]
---
Biology Bundle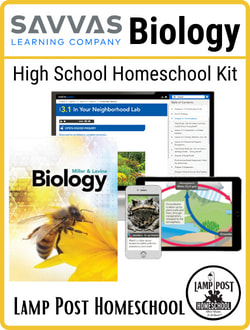 List $143.00
Price $113.99


Miller and Levine Biology Homeschool Bundle
By Kenneth R. Miller & Joseph S. Levine, Publisher: Savvas Learning Company
ISBN-13: 9781418400767
With this secular course, students will think, investigate, and talk about biology. They will interact with natural phenomena through problem-based learning, research, and lab experiments.
Each Miller & Levine Biology Homeschool Kit includes:
1 Student Edition ISBN-13: 9780328925124 Hardcover text with 953 pages.
1 Homeschool Digital Access Card** ISBN-13: 9780328972609 Digital components come with a 1-year online subscription.
**NOTE: The Homeschool Digital Access Card comes in your print package. Please locate it as soon as you open your package(s). It has the instructions you need to access your online digital content on the Savvas Realize™ Digital Platform. Your Order Number is needed when you apply for access. It is located on the label on the box. If you misplace it by accident, please contact us and we can help.
Features of Miller Levine Biology
Miller & Levine Biology immerses students in phenomena-based lessons through Problem-Based Learning and Case Studies.

Launch every chapter with an open-ended scientific problem or question.

Learning connects to the Case Stude in activities, figures, and assessment prompts.
Students gather data, cite evidence, and apply scientific reasoning to develop argument-driven discussions with their peers as they Make Their Case. [Could work in a homeschool co-op setting.]

Engage in inquiry labs, STEM activities, and interactivities.
Investigate key questions, apply scince and engineering practices, and interpret data.
Virtual Lab Simulations offer immersive interactive learning and point-of-use quizzes. Based on real scientivic case studies and data.
Animations and Interactive Media
Scientists at Work career videos
Spreadsheet data analysis tutorials
Quick Labs for students to explore with hands-on inquiry experiences, analyze and interpret data
Reach all students with support in the TE for English learners, special needs students, less proficient readers, struggling students, and advanced students.
Preview Overview Brochure and Sample Labs at the publisher's website to learn more about Miller & Levine Biology.
Learn More about Savvas Experience Chemistry and the Realize™Platform
General Information About Savvas Realize™ Platform for Homeschool Bundles with a digital subscription.
Links to tips and tutorials as well as information about the Savvas Homeschool Digital Access Card that comes with a homeschool bundle when it includes digital access.
Delivery Method: Blended (Print & Digital)
Device: Tablet, Computer
Operating System: Android, iOS, Windows, Chrome OS, Mac OS
Grades 9-10
List $143.00
Price $113.99


---
Table of Contents
About the Authors
Program Consultants and Reviewers
Standards at a Glance
Letters from the Authors
Unit 1: The Nature of Life

Chapter 1: The Science of Biology
Case Study: Biology and technology solve problems
Lesson 1.1: What Is Science?
Lesson 1.2: Science in Context
Lesson 1.3: Patterns of Life
Case Study Wrap-Up: Biology and technology solve problems
Chapter 1 Study Guide
Performance-Based Assessment: Investigating Hydroponics
Chapter 1 Assessment
Chapter 1 End-of-Course Test Practice
Chapter 2: The Chemistry of Life

Unit 2: Ecology

Chapter 3: The Biosphere
Chapter 4: Ecosystems
Chapter 5: Populations
Chapter 6: Communities and Ecosystem Dynamics
Chapter 7: Humans and Global Change

Unit 3: Cells

Chapter 8: Cell Structure and Function
Chapter 9: Photosynthesis
Chapter 10: Cellular Respiration
Chapter 11: Cell Growth and DivisionUnit 4: Genetics
Unit 4: Genetics

Chapter 12: Introduction to Genetics
Chapter 13: DNA
Chapter 14: RNA and Protein Synthesis
Chapter 15: The Human Genome
Chapter 16: Biotechnology

Unit 5: Evolution

Chapter 17: Darwin's Theory of Evolution
Chapter 18: Evolution of Populations
Chapter 19: Biodiversity and Classification
Chapter 20: History of Life

Unit 6: Diversity of Life

Chapter 21: Viruses, Prokaryotes, Protists, and Fungi
Chapter 22: Plants
Chapter 23: Plant Structure and Function
Chapter 24: Animal Evolution, Diversity, and Behavior
Chapter 25: Animal Systems I
Chapter 26: Animal Systems II
Chapter 27: The Human Body

A Visual Guide to the Diversity of Life
Lab Skills Handbook
Science and Engineering Practices
Appendix
---
More Savvas Curriculum Bundles at Lamp Post Homeschool
Savvas™ and Savvas Learning Company™ are the exclusive trademarks of Savvas Learning Company LLC in the US and in other countries