Return Policy for Lamp Post Homeschool
Most of the items we sell are returnable for thirty days after date of delivery (see Non-Returnable Items below). 
Please check your purchases as soon as you receive them.
If you wish to return an item, we will be happy to accept the return when you notify us within 30 days of the date of delivery; however, the following conditions apply.
Return Merchandise Authorization is required (within 30 Days of Delivery Date)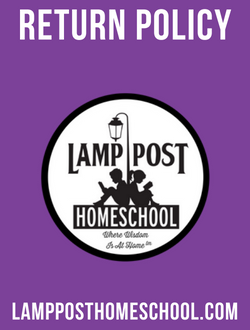 Please call or email us before shipping for a required Return Merchandise Authorization Number.
The required RMA Number should be printed legibly on the outside of your package under your name and address.
No refunds will be given on unapproved returns, and we reserve the right to refuse packages without an RMA#.
Deliveries refused will be refunded minus all incurred shipping costs, which may include, but is not limited to, shipping costs to and from the respective delivery address.
No returns or refunds after 30 days from date of delivery.
The item(s) must be in new salable condition, no markings, folds, etc.
The cost of shipping is the responsibility of the customer.
We allow time for the product to reach us after you call us for an RMA # when you ship the item promptly.
Return to:
Lamp Post Homeschool
ATTN: (Add your RMA# here)
1741 TALLMAN HOLLOW ROAD
MONTOURSVILLE, PA 17754
We suggest that you use a shipping method that has delivery confirmation and insurance.
Note: Packages returned with "Postage Due" will be charged the postage due plus a handling fee of $3.00.
Shipping Damages and Discrepancies
Please contact us within 10 days of receipt if you have a damaged or defective product. We will correct the problem.
If the items were defective from the manufacturer, please contact us about a Replacement.
Non-Returnable Items
Software, online digital subscriptions, E-Books, audio CDs, DVDs, Audio and Video cassettes are non-returnable.
This includes any teacher's guides and textbooks that include digital subscriptions, software, CDs, DVD, etc. No Exceptions.
Clearance Items are not returnable.