Solutions for Teaching High School Mathematics at Home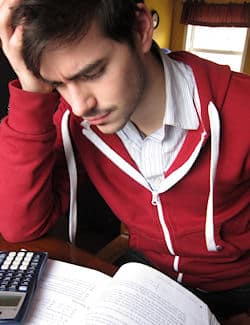 Is teaching homeschool high school math a problem for you?
By Harriet Yoder (homeschool mother and co-owner of Lamp Post Homeschool)
Many homeschool parents have concerns about teaching upper-level math at home. Sometimes it is the deciding factor in continuing to homeschool in high school.
Don't give up homeschooling because math is a difficult subject for you. There are several ways to be successful at teaching homeschool high school math.
Hire a Tutor
Hire a tutor to help the ones who need help. It can be a teacher, college student, or another mathematically-inclined homeschool parent.
This has to be cheaper than private schooling!
If funding is a problem, then check with friends and family. Maybe you can find a volunteer who would donate time and talent to help your student.
Or trade tutoring with another parent who needs help with a subject that is your gifting.
Homeschool Co-op Classes
Find or start a homeschool co-op that offers a math course.
Take Math Class at a Christian or Private School
Your local Christian school might let your students take their math class.
Take Math Class at a Public School
In Pennsylvania the public schools allow homeschoolers to take one or two classes.
It's been helpful in certain situations.
Math is a course that doesn't usually get into controversial issues.
Older students are usually more mature and will resist peer pressure.
Other Options
Some companies have instruction via DVDs or distance learning.
Saxon Teacher Digital has instruction for every lesson for Saxon Homeschool Math for Grades 5 through high school.
Changing Your Math Curriculum Might Solve the Problem
If the math program you chose isn't working, it might be time for a change.
Include your teen in the selection process.
Taking ownership of the new math course is a great motivator.
These are our favorites from Lamp Post Homeschool:
Homeschool Math Curriculum
Hope this helps you to keep on homeschooling!
Blessings,
Harriet Yoder