Take a Sneak Peek at Homeschooling This Summer!
So you're thinking about starting to homeschool next fall, but you're still not sure. How about taking a sneak peek at homeschooling this summer to help you make the decision?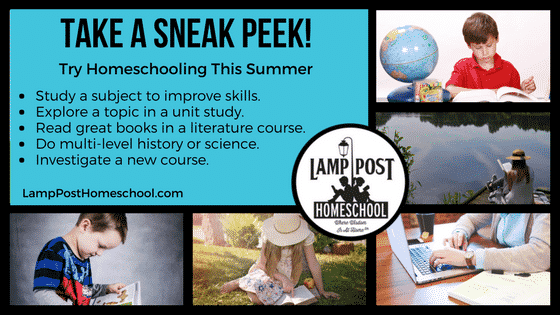 What Is a Homeschool Sneak Peek?
Glad you asked! It's a homeschool summer session trial to help you get a feel for homeschooling without the worry of doing it for real.
Choose one subject and do it over the summer.
Lots of options are available from which to choose:
Catch-up or refresh—When your child is behind in a subject or wants to improve skills, choose that one.
Head-start for next year—Choose something you want to work on ahead of time that will help whether you choose to homeschool or not.
Off the typical academic track—Find a topic your student likes but isn't typically offered in public school.
Whatever you and your student find and want to try! 
Study a subject to improve skills.
Investigate a topic not covered in school.
Read lots of great books in a literature-based course.
It's a Stress-Free, Fail-Proof, and Fun Trial!
All you have to lose is some time and the cost of the homeschool curriculum for your summer homeschool adventure.
If your children have been in public school, you have an advantage—They're already used to schedules and the school routine.
If they want you to teach them at home, they are ready, willing and able to get started.
At the worst, your children will have learned something over the summer break.
You will probably learn you are far more capable of teaching than you thought.
It will be an adventure, for sure.
Possible Summer Mini-Courses
Here's a quick overview of these courses.
Try it, you'll like it!
It's a risk-free way to see if homeschooling is for you and your family. Go ahead and try a homeschool sneak peek this summer!
You can do this!
Blessings,
Harriet