Teach Accounting At Home With A Complete Christian-based Homeschool Set for 7th-12 Grades

The focus is on money management and accounting procedures with a business emphasis. Everything you need for one student and one teacher is in the complete LIFEPAC Consumer Math Boxed Set.
LIFEPAC Accounting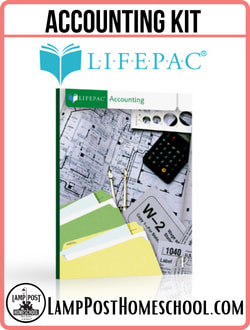 LIFEPAC Elective Accounting Set
Price $108.00
Use Coupon Code DiscountAOP for the best discount on this item.


LIFEPAC Elective Accounting Set
ISBN-13: 9780740301964
Item #ES9315
The LIFEPAC Accounting Set includes an overview of debits and credits, taxes, journalizing and posting transactions, financial statements, payroll accounting, and a business simulation activity. Lessons are self-paced for the independant learner.
Topics in Accounting include:
Accounting Overview
Starting an Accounting System
Analyzing & Journalizing Transactions
Posting to the General Ledger
Preparing the Worksheet
Financial Staements
Adjusting & closing Entries
Prayroll Records
Paryoll Accounting
Business Simulation
This LIFEPAC Elective Accounting boxed set includes 10 LIFEPAC's plus Teacher's Guide.
For grades 7 to 12, this course is a year-long course for one credit in Jr. or Sr. High.
Price $108.00
Use Coupon Code DiscountAOP for the best discount on this item.


---
LIFEPAC® is a registered trademark of Alpha Omega Publications,
**The discount will be taken off the in the shopping cart after you apply the homeschool coupon code. Add in one time to discount on all Alpha Omega Curriculum including Horizons, LIFEPACs, and Calvert curriculum in your shopping cart. Can not be combined with any other coupon codes and excludes items marked clearance.