Traditional Christian Based History Course for 3rd Grade
Integrate Civics, Culture, Economics, Geography, and History
Components are available separately or in a homeschool kit for one student and one teacher.
History 3 Kit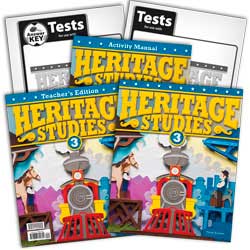 BJU Press Heritage Studies 3 Homeschool Kit 3rd Edition
Item #bju511717
Bob Jones Heritage Studies 3 covers United States history from the Constitutional Convention through the Civil War.
The Heritage Studies 3 Homeschool Kit with CD 3rd Ed. contains one of each of the following items:
Heritage Studies 3 Teachers Edition with CD (#287292, ISBN-13: 978606824801) features:

90 lessons
Chapters include an introduction, chapter focus, and lesson plan overview that coordinates the TE with the student books
Lessons include an opener, lesson focus, an overview, objectives, materials, new vocabulary words, and teaching notes
Ideas for discussion  hands-on activities
Teacher's Toolkit CD with:

Activities, maps, graphs, and visuals
Materials list
An Answer Key for the Student Activity Manual.

Student Text for Heritage Studies 3 (#287243, ISBN-13: 9781-606824771) 

Integrates civics, culture, economics, geography, and history with a Christian worldview perspective.
Studies the role of significant Christians in American history
Has these features to enhance learning:

Primary source documents
Patriotic songs
Eye-catching artwork, maps, graphs, photos
Review questions
Extended hands-on activities

Heritage Studies 3 Student Activity Manual (#287250, ISBN-13: 9781606824788) has:

Full-color pages
Reinforcement pages
Map skills
Study skills
Bible Connections
Chapter reviews

Tests for Heritage Studies 3 (Tests only) (#287300, ISBN-13: 9781606824818)  include a test for each chapter in the student text.
Heritage Studies 3 Tests Answer Key (#287326, ISBN-13: 9781606824825)  has answers printed in a bold font over and exact copy of the student tests for easy grading.
Grade 3
More Bob Jones Heritage Studies at LampPostHomeschool.com