The Study of Society—Provide Traditional Coverage of Introductory Sociology
Written with a secular perspective, the Houghton Mifflin Harcourt Sociology Homeschool Package ©2018 includes the Student Text, Teacher Edition, Online Student Resource Package, and Online Teacher Resource Package.
---
Homeschool Package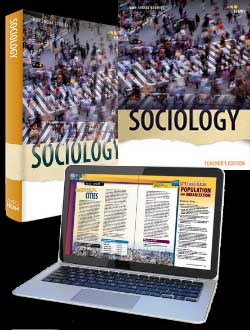 2018 HMH Sociology
Homeschool Package
Publisher: Houghton Mifflin Harcourt
ISBN-13: 9780358062325
Grades 9-12th
Price $78.00


2018 HMH Sociology Homeschool Package
The HMH Sociology Homeschool Package ©2018, a Secular-based sociology curriculum, contains one of each of the following items:
Student Edition Textbook 9780544859364
Offers comprehensive content coverage through an engaging narrative supported by compelling and instructive visuals.
Unit Features:
Unit Openers to preview upcoming material.
Careers in Sociology—profiles a career area in sociology and includes a short activity on writing with the ASA style.
Cultural Diversity and Sociology: Global Connections—Connect sociology content to places around the world and provides the opportunity to think like a sociologist.
Chapter Features:
Chapter Openers

Case Study with either a real-world application or example of chapter content.
Chapter at a Glance summarized key points.

Chapter Reviews—Provides assessments and links to online features.
Section Features:
Main Idea Statement, Reading Focus questions, Vocabulary terms, Taking Notes to record key ideas as you read, Sociology Close Up (an engaging story, example, or anecdote), Reading Check questions, Section Assessments.
Hands-On Activities:
Applying What You've Learned—labs, simulations, or experiments such as Creating a Drug Awareness Campaign or How to Be an Ethnomethodologist.
Quick Labs such as Conducting Interviews or Using Refusal Skills.
Hardcover, 528 Pages
Teacher Edition 9780544859371
Focuses on planning and instructional support with a special emphasis on helping teachers balance their print and digital resources to maximize blended learning. (Hardcover)
• Digital Access
(NOTE: These are not available for individual purchase yet. You need to purchase a Homeschool Kit for each student.) The digital access portion includes one of each:
Online Student Resource Package
Online Teacher Resource Package 9780358243397
NOTE: This is a print and digital homeschool kit.
Digital components come with a 1-year subscription.
You will receive your digital access from [email protected]
Price $78.00


HMH Sociology Table of Contents
Unit 1: Culture and Social Structure
1  What is Sociology?
2  Cultural Diversity and Conformity
3  Social Structure
Unit 2 The Individual in Society
4  Socializing the Individual
5  The Adolescent in Society
6  The Adult in Society
7  Social Control and Deviance
Unit 3 Social Inequality
8   Social Stratification
9   Racial and Ethnic Relations
10 Gender, Age, and Health
Unit 4 Social Institutions
11   The Family
12   The Economy and Politics
13   Education and Religion
14   Sport and the Mass Media
Unit 5 The Changing World
15   Population and Urbanization
16   Collective Behavior and Social Change
---
More Elective Courses at Lamp Post Homeschool