Provide Traditional Coverage of Economics in a Complete Homeschool Kit
Written with a secular perspective, the Houghton Mifflin Harcourt Economics Homeschool Package ©2018 includes the Student Text, Teacher Edition, Online Student Resource Package, and Online Teacher Resource Package.
Economics Package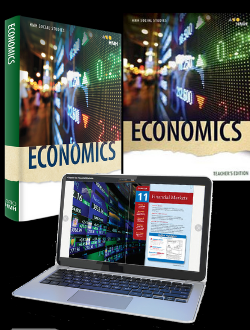 Economics Kit
Publisher: Houghton Mifflin Harcourt
ISBN-13: 9780358062301
NOTE: This is a print and digital homeschool kit. Digital components come with a 1-year subscription. You will receive your digital access from hmh_digital_access@hmhco.com.
Grades 9-12th
Price $88.40


2018 HMH Social Studies Economics Homeschool Package
The HMH Economics Homeschool Package ©2018, a secular-based economics curriculum, contains one of each of the following items:
Student Edition Textbook 9780544859296
Offers comprehensive content coverage through an engaging narrative supported by compelling and instructive visuals and features:
Online Resources—Such as Types of Graphs, The Interaction of Supply and Demand, and Short-Term Effects of Monetary Policy
Your Economic Choices—Questions about a key economic concept using real-life situations and scenarios.
Case Studies—Presents real-world scenarios and high interest topics.
Economics Pacesetters—Biographical sketches of important business leaders, economists, and entrepreneurs to illustrate various economic concepts with real-life examples.
Economics Essentials—Graphs and illustrations that summarize important economic concepts.
Math Challenges—Build math concept skills for economics.
Reading Study Guide—Addresses reading comprehension and note-taking practice to focus on main ideas, social studies skills, and vocabulary.
Notes—Students can take notes as they read the text and easily access them for later review to ensure comprehension.
Economics Skillbuilders—Creating and Interpreting economics models.
Unit Openers to preview upcoming material.
Global Perspectives—Looks at economic situations around the world.
Key Terms—Economics vocabulary
Assessments-Reviewing Key Concepts, Critical Thinking, Economics in Practice
Hardcover, 735 Pages
Teacher Edition 9780544859302
Focuses on planning and instructional support with a special emphasis on helping teachers balance their print and digital resources to maximize blended learning.
Support to plan and deliver instruction for different activities and for students at different ability levels.
(Hardcover, 816 Pages)
Digital Access Subscriptions (1-year) includes one of each item:
(NOTE: The digital access components are not available for individual purchase yet. You need to purchase a Homeschool Kit for each student.)
Online Student Resource Package 9780358243274
The Online Student Edition resides on a responsive learning system, enabling it to function across operating systems and devices.
Features: Audio Highlighting and Note-taking, Access to Reading Study Guide, Interactives, and more.
Online Teacher Resource Package 9780358243366
1. Discover—Quickly access content and search program resources.
2. Plans—Organize resources and create plans.
3. Assignments—Create assignments and track progress of assignments.
4. Data & Reports—Monitor student's daily progress.
HMH Economics 2018 Table of Contents
•Economic Atlas and Statistics
•Strategies for Taking Tests
​​•Strategies for Studying Economics
•Test Practice​
UNIT 1: Economics and Choice
1 The Economic Way of Thinking
2 Economic Systems
3 The American Free Enterprise System
UNIT 2 Market Economies at Work
4 Demand
5 Supply
6 Demand, Supply, and Prices
7 Market Structure
UNIT 3 Partners in the American Economy
8 Types of Business Organizations
9 The Role of Labor
UNIT 4 Money, Banking, and Finance
10 Money and Banking
11 Financial Markets
UNIT 5 Measuring and Monitoring Economic Performance
12 Economic Indicators and Measurements
13 Facing Economic Challenges
UNIT 6 The Role of Government in the Economy
14 Government Revenue and Spending
15 Using Fiscal Policy
16 The Federal Reserve and Monetary Policy
UNIT 7 The Global Economy
17 International Trade
18 Issues of Economic Development
•Consumer and Personal Finance Handbook
---
Price $88.40


Houghton Mifflin Harcourt® and HMH® are registered trademarks of Houghton Mifflin Harcourt.