Learn More About Homeschool Mini-Mesters!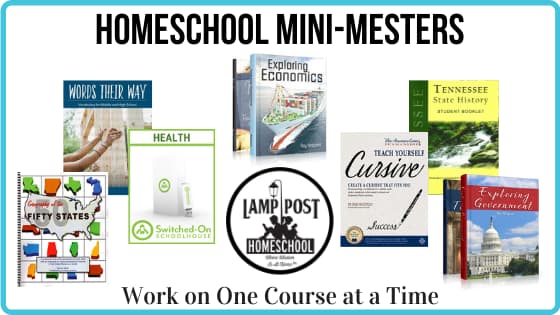 Homeschool mini-mesters—like college mini-mesters—are simply courses done in a shorter amount of time than the regular semester or year. It's an easy-to-do choice when schools are closed due to quarantines.
Take anywhere from two to nine weeks or longer.
Some subjects work better as mini-mesters—history, science, and electives.
Reviews in math or reading could also work as a mini-mester course.
Works for all ages.
Focus on one favorite subject for a fun break from the regular routine.
Finish your school year with a mini-mester or do a quick summer course!
Choosing Your Mini-Mester Course Materials
Adjust almost any homeschool course to complete it in a shorter time. Some courses have greater scheduling flexibility.
How Do You Plan a Homeschool Mini-Mester?
After you choose your course materials, decide how long you want your mini-mester to last.
If you want to break up your school year into mini-mesters, consider choosing 6 or 9 weeks
–Six-week segments leave room for six different courses.
–Or perhaps you have a math or reading program that you want to do all year. Use nine-week segments for four mini-mesters—your child could be doing two subjects in each quarter.
Find the course schedule/planner—Number of lessons, daily schedule, etc.
Calculate the number of lessons your student needs to do each day or week to finish the course.
–For example, if there are 36 weekly lessons, and you choose a 6-week course, then your student needs to work six lessons each week.
–Though that sounds like a lot, students in summer school do it all the time.
Accountability
It's important to stay on track and keep your student accountable.
Encourage your student to work ahead if possible.
Set weekly goals with rewards to motivate your child.
Don't forget to record the work in your journal if you live in a state like Pennsylvania that requires daily logs.
Be Creative!
Make it work for you by being creative. There is no set rule for how long a mini-mester should last. Take a look at summer class schedules for different colleges to see what I mean.
Feel free to contact us if you have questions about mini-mesters or homeschooling!
Blessings,
Harriet Yoder