Teach Christian-based PE for Sixth to Eighth Grade at Home!

While it is recommended that you use Horizons PE in a group setting because it develops teamwork skills and fitness disciplines, you can use it in the homeschool setting to teach the basics of physical education. [Features…]
Grades 6 to 8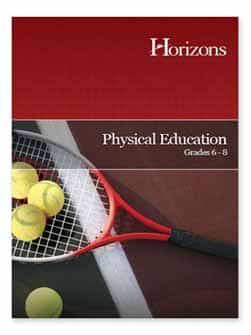 Horizons Physical Education 6-8
Publisher: Alpha Omega Publications
ISBN-13: 9780740314704
Price $51.25
Use Coupon Code
DiscountAOP for the best discount
Off List Price on this item.


Horizons Physical Education 6-8
Horizons Physical Education 6-8 curriculum focuses on team and recreational sports, intramural athletics, and health fitness.
Finding team sports for your homeschool student to join isn't difficult. For example, well-known team sports available to homeschoolers include AYSO soccer and Little League baseball. Larger homeschool co-ops can offer archery, basketball, and other team sports. Some school districts and private schools allow homeschool students to participate in extra-curricular activities such as team and individual sports.
Features of Horizons PE for 6th to 8th Grade
The teacher's guide has three sections of Christian-based teaching materials—one for each grade from sixth to eighth for a full school year based on a three-day per week program.
Teach game rules and techniques for team, recreational, and intramural activities.
Comprehensive instructions for teaching soccer, volleyball, football, basketball, hockey, golf, tennis, skiing, skating, cycling, wrestling, and other sports.
Promotes good sportsmanship from a Christian perspective.
Easy-to-follow diagrams help explain game rules more thoroughly.
Horizons PE Scope and Sequence Learn more about this program.
Use Coupon Code DiscountAOP to get the best discount off list price on Horizons Physical Education Curriculum at Lamp Post Homeschool.**
Grades 6, 7, and 8 Christian-based program
Price $51.25
Use Coupon Code
DiscountAOP for the best discount
Off List Price on this item.


Horizons® is a registered trademark of Alpha Omega Publications.
**The discount will be taken off the in the shopping cart after you apply the homeschool coupon code. Add in one time to discount on all Alpha Omega Curriculum including Horizons, LIFEPACs, and Calvert curriculum in your shopping cart. Can not be combined with any other coupon codes.