What's a Good Christian-Based College Prep Chemistry Course for Homeschool?
With a chemistry lab experiment for each chapter, the Chemistry: A Study of Matter from a Christian Worldview Set offers an understandable course that will help your student to prepare for a college chemistry course. [Read more…]
Features of Chemistry: The Study of Matter From A Christian Worldview
Focus on chemistry concepts and their applications.
Study composition, structure, and properties of matter with a strong biblical worldview
Step-by-step instructions with images included for each lab experiment
Specifically designed for the homeschool setting and geared to prepare future STEM majors for college as well as any student who needs a high school chemistry course.
Schedule, supply lists, and course are found in the Teacher Guide.
Based on the principle that those who understand and apply information will do better than those who simply memorize material.
Written by professional scientist and science educator, Dr. Dennis Englin, this course has been used successfully for years.
For 10th to 12th grade with a prerequisite of Algebra 1.
Chemistry Set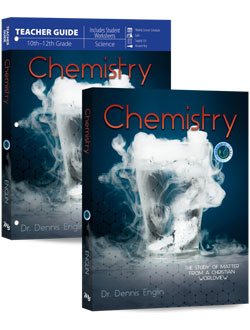 Chemistry Set
ISBN-13: 9781683441342
 The Chemistry Set includes one of each of the following books.
Grades 10-12 [Prerequisite: Algebra 1]
Teacher Guide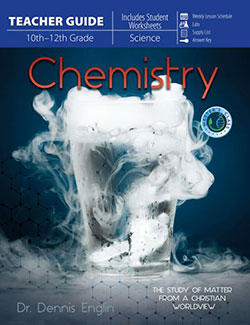 Chemistry: The Study of Matter From a Christian Worldview Teacher Guide
The Chemistry Teacher Guide is formatted to be easy to use with a detailed schedule, worksheets, and tests.
Requires approximately five hours of course work each week.
Assess student learning with worksheets.
Reinforce learning and provide assessment opportunities with quizzes and exams.
Includes answer keys for worksheets, quizzes, lab reports, and exams.
Earn science and lab credit.
Preview Chemistry Teacher Guide at the publisher's website.
Home Science Tools has assembled a chemistry lab kit for the course.
Grades 10-12 [Prerequisite: Algebra 1]
Student Text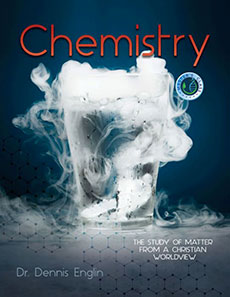 Chemistry Student Text
In the Chemistry Student Textbook, each chapter has a lab with step-by-step instructions and photos.
Preview Sample of Chemistry Student Text at the publisher's website.
Read the first three chapters to see if Dr. Englin's writing and teaching style fits your student.
Includes a full-color removable Periodic Table of the Elements.
The Table of Contents:
1. Introduction
2. Metric Measurements in Chemistry
3. Chemical Solutions — Percent Concentrations
4. Chemical Solution — Molarity
5. Molecular Mass and Atomic Theory
6. Preparing Molar Solutions
7. Chemical Reactions
8. Chemical Equations I
9. Chemical Equations II
10. Moles From Chemical Equations
11. Finding The Grams of Reactant and Product
12. Electron Configurations
13. Electron Configurations Continued
14. Periodic Table of the Elements
15. The Groups of the Periodic Table of the Elements
16. Ionic Bonds
17. Covalent Bonds
18. Metal Atoms
19. Batteries
20. Acid and Bases I
21. Acid and Bases II
22. Weak Acids and Bases
23. Buffers
24. Chemistry Of Carbon
25. Organic Chemistry
26. Biochemistry
27. Rates of Chemical Reactions
28. Environmental Chemistry
Appendix 1 – Laboratory Procedures
Appendix 2 – Christian Chemists
Glossary and Index
Grades 10-12 [Prerequisite: Algebra 1]
More Chemistry Courses at Lamp Post Homeschool