SOS Christian Curriculum Is Now On USB Flash Drive for 3rd to 12th Grades
Switched-On Schoolhouse USB Flash Drive curriculum emphasizes mastery learning. [Features…]
Features and Benefits of Switched-On Schoolhouse USB Flash Drive Curriculum
Switched-On Schoolhouse USB has structured coursework given in smaller increments.
The concept behind mastery learning is "Any student can succeed if given the right amount of time and the proper tools to learn."
Students are allowed to move on when they show they mastered the material through quizzes and tests.
If you are new to Switched-On curriculum, you can use placement tests to place your students in the right grade.
You can use selected subjects in this curriculum to augment your regular program.
Learn More: Switched-On Schoolhouse Curriculum Overview.
Use Coupon Code DiscountAOP to get the best discount off list price on Switched-On Schoolhouse Curriculum at Lamp Post Homeschool.**
NOTE:
Please note that all software purchases are non-returnable for any reason.
Alpha Omega provides excellent tech support.
Keep your box and flyers when you receive the software.
The serial number on the flyer is needed to install your Switched-On software.
Older homeschool high school students who work independently most of the time.
Homeschool students with extreme allergies (if they can be around a computer)
Those with special needs who use a computer instead of books (Text to Speech can help)
Children of missionaries or parents who travel extensively and extremely limited storage space. It's very portable with a laptop.
Techie homeschool students who love "anything computer."
Reasons to Use Switched-On Schoolhouse Check out the reasons to use Switched-On Schoolhouse curriculum. Every year Switched-On Schoolhouse gets better and easier to use for student and teacher.
System Requirements See the minimum system requirements for Switched-On Schoolhouse on USB.
---
SOS Placement Tests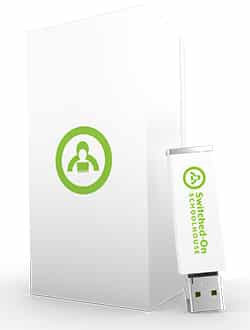 SOS Placement Tests
Switched-On Schoolhouse Diagnostic Tests
Publisher: Alpha Omega Publications
Item #uSOSDT
This single kit contains tests to ensure students are properly placed within SOS Schoolhouse grade levels.
Diagnostic/placement tests on the USB Flash Drive are available in Bible, Math, Science, Language Arts, and History for grades 3 to 12.
Use Coupon Code DiscountAOP for the best available discount on this item.


---
NEW 2021 SOS on USB Flash Drive Requirements

---
Switched-On Schoolhouse® is a registered trademark of Alpha Omega Publications.
**The discount will be taken off the in the shopping cart after you apply the homeschool coupon code. Add in one time to discount on all Alpha Omega Curriculum including Horizons®, LIFEPACs®, and Switched-On Schoolhouse curriculum in your shopping cart. Can not be combined with any other coupon codes and excludes items marked clearance.