Teach High School World History at Home
Experience the scope and impact of world history through engaging stories and compelling questions. [NOTE: This is a secular world history curriculum.] [Features…]
World History Kit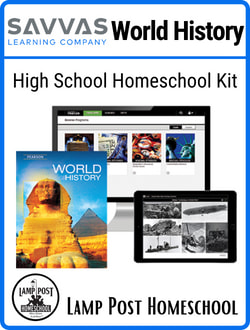 World History Bundle
Savvas Learning Company
ISBN-13: 9780328956753
High School
List $187.00
OUT OF PRINT
NEW SAVVAS WORLD HISTORY COMING SOON


Savvas Homeschool World History Bundle
Publisher: Savvas Learning Company
Reimagined world history course promotes inquiry, critical thinking, using evidence, and communicating conclusions. Invites students in Grades 9-12 to experience the scope and impact of world history through engaging stories and compelling questions. The program bridges time-tested best practices, curriculum standard expectations, and technology to help your child prepare for college, career, and civic life.
Features of Savvas World History Curriculum
Uses a research-tested, four-part learning model to enhance teaching and understanding.
Connect to content through a storytelling approach and activate prior knowledge, personal experience, and perspective.
Investigate topics and teach with hands-on projects, inquiry activities, and primary sources–in print and digital formats.
Synthesize understanding by applying learning in a quick recap and "pull-it-all-together" exercise before moving to the next lesson.
Demonstrate an understanding of the content through authentic, formative, and summative assessments.
Each Savvas Homeschool World History Kit includes:
1 Student Edition ISBN-13: 9780133307023 Hardcover text
1 Resource DVD ISBN-13: 9780133329919
1 Homeschool Digital Access Card** ISBN-13: 9780328972609 Digital components come with a 1-year online subscription.
**NOTE: The Homeschool Digital Access Card comes in your print package. Please locate it as soon as you open your package(s). It has the instructions you need to access your online digital content on the Savvas Realize™ Digital Platform. Your Order Number is needed when you apply for access. It is located on the label on the box. If you misplace it by accident, please contact us and we can help.
Preview Overview Brochure and Sample Labs at the publisher's website to learn more about Savvas World History.
Learn More about Savvas World History and the Realize™ Platform
General Information About Savvas Realize™ Platform for Homeschool Bundles with a digital subscription.
Links to tips, tutorials, and information about the Savvas Homeschool Digital Access Card that comes with a homeschool bundle when it includes digital access.
Delivery Method: Blended (Print & Digital)
Device: Tablet, Computer
Operating System: Android, iOS, Windows, Chrome OS, MacOS
Grades 9-12
List $187.00
OUT OF PRINT
NEW SAVVAS WORLD HISTORY
COMING SOON


---
Table of Contents
1 Origins of Civilization (Prehistory–300 B.C.)
2 The Neolithic Revolution
3 Civilization Begins
2 The Ancient Middle East and Egypt (3200 B.C.–500 B.C.)
3 Ancient India and China (2600 B.C.–A.D. 550)
4 The Americas (Prehistory–A.D. 1570)
5 Ancient Greece (1750 B.C.–133 B.C.)
6 Ancient Rome and the Origins of Christianity (9 B.C.-A.D. 476)
7 Medieval Christian Europe (330–1450)
8 The Muslim World and Africa (730 B.C.-A.D. 1500)
9 Civilizations of Asia (500–1650)
10 The Renaissance and Reformation (1300–1650)
11 New Global Connections (1415–1796)
12 Absolutism and Revolution
13 The Industrial Revolution
14 Nationalism and the Spread of Democracy (1790–1914)
15 The Age of Imperialism (1800–1914)
16 World War I and the Russian Revolution (1914–1924)
17 The World Between the Wars (1910–1939)
18 World War II (1930–1945)
19 The Cold War Era (1945–1991)
20 New Nations Emerge (1945–Present)
21 The World Today (1980–Present)
---
More Complete World History Courses at Lamp Post Homeschool