Teach Algebra 1 At Home With A Complete Christian-based Homeschool Set for 9th Grade
Emphasizing mastery of math concepts, everything you need for one student and one teacher is in the complete LIFEPAC Math 9 Boxed Set. [Read more…]
Features of Lifepac Algebra 1
The focus in 9th grade is instruction in Algebra 1.
This is a Christian mastery-based math worktext curriculum.
Learn math with drills, practice, and hands-on activities.
Teacher involvement is considered necessary since math builds on concepts.
The LIFEPAC Math 9 boxed set from Alpha Omega is composed of ten LIFEPACs (consumable textbook/workbook combinations) and a Teacher's guide.
Each Math 9 Student Workbook includes the subject text, exercises, projects, review, and tests.
The Teacher's Guide 9 includes answers and solutions for math problems.
Use Coupon Code DiscountAOP to get the best available discount off list price on LIFEPAC Math Curriculum at Lamp Post Homeschool.**
LIFEPAC Math 9 Set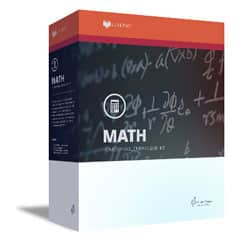 LIFEPAC Math 9 Algebra 1 Set
Item #MAT0915
ISBN-13: 9780867170900
The LIFEPAC Math 9 topics for Algebra 1 include:
Variables and Numbers
Solving Equations
Problem Analysis and Solution
Polynomials
Algebraic Factors
Algebraic Fractions
Radical Expressions
Graphing, Systems
Quadratic Equations and Review.
This set includes a Teacher's Guide with problem solutions and ten worktexts.
The teacher's guide has an Alpha Omega curriculum overview, lesson planning, teacher's tips and notes, worksheets, materials lists, learning activities, test and self-test keys, alternate tests, and answer keys for lessons and tests in Units 1-10.
Preview samples of LIFPAC Math 9
Grade 9
Math 9 Student

Math 9 Student LIFEPACs Only
Item #MAT0900
ISBN-13: 9780867170917
In the Math 9 Student LIFEPACs, there are ten individual booklets for one extra student.
Each student-directed worktext in this Alpha Omega curriculum is consumable and includes easy-to-follow instructions, self-tests, and one removable teacher-administered test.
Grade 9
More LIFEPAC Courses at Lamp Post Homeschool
LIFEPAC® is a registered trademark of Alpha Omega Publications
**The discount will be taken off the in the shopping cart after you apply the homeschool coupon code. Add in one time to discount on all Alpha Omega Curriculum including Horizons, LIFEPACs, and Switched-On Schoolhouse curriculum in your shopping cart. Can not be combined with any other coupon codes and excludes items marked clearance.