All You Need to Teach First Grade Math at Home with Calvert Math 1 Homeschool Kits

There are ten colorful Student Books and a 2-part Teacher's Guide in the easy-to-use complete math kit. Calvert makes it easy to teach homeschool math. [Features…]
Calvert Math 1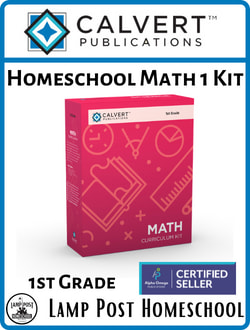 Calvert Math 1
Homeschool Kit
Price $144.00
Use Coupon Code
DiscountAOP for the best discount off List Price.


Calvert 1st Grade Math Complete Curriculum Kit
Publisher: Calvert Publications
ISBN-13: 9780740339677
Create a strong math foundation, Calvert 1st Grade Math—a fun homeschooling program with a focus on the basics of elementary math.
In this homeschooling math program, students focus on mastery of a single skill before moving to learn new skills.
This approach builds a strong foundation in basic math skills which paves the way for ever-increasing levels of proficiency.
The Calvert Math 1 Complete Kit includes one of each of the following items:
Ten Student Workbooks:
Ten colorful workbooks provide instruction and practice in number order, number words to 200, place value, addition, subtraction, time, fractions, and more.
Study skip counting, measurements, shapes, number sentences, and money.
Focus on the basics of elementary math.
Full of fun learning activities.
View Calvert Math 1 Sample Pages for each workbook.
Teacher's Guide Calvert Math 1 provides:
Step-by-step teaching instructions for all 160 lessons
Each lesson includes a list of materials necessary for the lesson.
Objectives for each lesson.
Student workbook pages are reduced and shown in full color in each lesson with answers shown in red font for easy grading.
An Answer Key
Lots of ideas for additional activities designed to reinforce essential math concepts!
View Math 1 Teacher's Guide Part 1 Sample Pages (Including the Scope and Sequence)
1st Grade
Price $144.00
Use Coupon Code
DiscountAOP for the best discount
off List Price.


---
More Calvert Complete Curriculum at Lamp Post Homeschool
**The discount will be taken off the in the shopping cart after you apply the homeschool coupon code. Add in one time for discount on all Calvert curriculum in your shopping cart. Can not be combined with any other coupon codes.