All You Need to Teach Phonics-Based Calvert Language Arts at Home

New Edition! There are ten colorful Student Books and a 2-part Teacher's Guide in the easy-to-use complete Language Arts 1 Kit. Calvert makes it easy to teach homeschool English.
Calvert Language Arts 1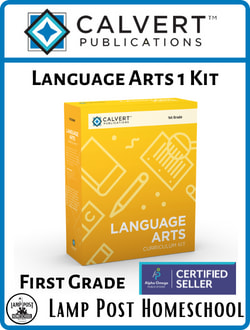 Calvert Language Arts 1
Complete Homeschool Kit
Price $168.00
Use Coupon Code
DiscountAOP for the best discount off List Price.


Calvert 1st Grade Language Arts Complete Curriculum Kit
Publisher: Calvert Publications
ISBN-13: 9780740339691
Calvert First Grade Language Arts Kit is a comprehensive phonics-based language course that integrates phonics, reading, and grammar into one fun-filled homeschooling course.
Ten colorful booklets, five vocabulary-controlled readers, and a complete teacher's guide make this a great choice for parents looking for an easy-to-use reading program!
Through this colorful course, students encounter skills such as rhyming words, consonant digraphs and blends, vowel digraphs, R-controlled vowels, and diphthongs, as well as basic grammar skills to take students from "learning to read" to "reading to learn!"
Grade 1 Language Arts Placement Test Check your student's readiness for proper placement in the right level.
The Calvert Language Arts 1 Complete Kit includes one of each of the following items:
Ten Student Workbooks:
Teacher's Guide Calvert Language Arts 1 provides:
Step-by-step teaching instructions for all 160 lessons
Each lesson includes a list of materials necessary for the lesson.
Objectives for each lesson.
Student workbook pages are reduced and shown in full color in each lesson with answers shown in red font for easy grading.
An Answer Key
Lots of ideas for additional activities designed to reinforce essential language arts concepts!
First Grade
Price $168.00
Use Coupon Code
DiscountAOP  for the best discount
off List Price.


---
More Calvert 1st Grade Curriculum at Lamp Post Homeschool
**The discount will be taken off the in the shopping cart after you apply the homeschool coupon code. Add in one time for discount on all Calvert curriculum in your shopping cart. Can not be combined with any other coupon codes.