All You Need to Teach Calvert Science at Home

New Edition! There are ten colorful Student Books and a 2-part Teacher's Guide in the easy-to-use complete science kit. Calvert makes it easy to teach homeschool science in first and second grade. [Read more…]
Calvert Science 1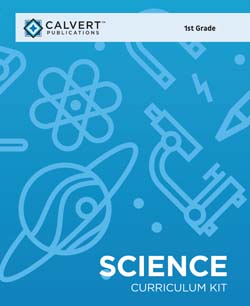 Calvert 1st Grade Science Complete Curriculum Kit
ISBN-13: 9780740339653
Calvert 1st Grade Science begins the process of teaching important principles of observation which will assist children as they learn about the physical universe.
Ten colorful booklets present lessons on the human body, the five senses, animals, plants, energy, health, machines, and more.
Making science both easy and fun, this course includes an essential two-part teacher's guide, which consists of general teaching resources, step-by-step teaching instructions, answer keys, alternate tests, equipment lists, and lists of additional homeschool resources, activities, and experiments.
The Calvert Science 1 Complete Kit includes one of each of the following items:
Ten Student Workbooks-Calvert Science 1:
New Words and Words To Study vocabulary lists show the definition and pronunciation of each word.
Highlights vocabulary words in the text.
Includes tests in back of each workbook. (Remove and set aside before giving the book to your child.)
View sample pages for student workbooks
Teacher's Guide for Calvert First Grade Science provides:
Step-by-step teaching instructions for all 160 lessons
Each lesson includes a list of materials necessary for the lesson.
Objectives for each lesson.
Reduced, student workbook pages in full color in each lesson with answers in red font for easy grading.
An Answer Key
Lots of ideas for additional activities designed to reinforce essential science concepts!
View Teacher Sample Pages.
1st Grade
Horizons®, LIFEPACs®, and Switched-On Schoolhouse® are registered trademarks of Alpha Omega Publications
**The discount will be taken off the in the shopping cart after you apply the homeschool coupon code. Add in one time to discount on all Alpha Omega Curriculum including Calvert, Horizons, LIFEPACs, and Switched-On Schoolhouse curriculum in your shopping cart. Can not be combined with any other coupon codes and excludes items marked clearance.