Learn High School Art at Home with Lessons and Projects
For the high school student who wants to take art lessons at home, we offer Artistic Pursuits High School Book 2 by Brenda Ellis. [Features…]
High School Art Book 2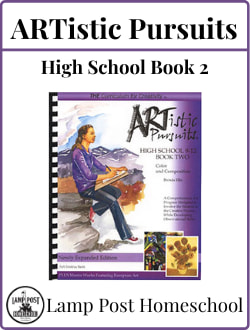 High School Art Book 2
Color and Composition ISBN-13:9781939394095
One-Year Course
Grades 9-12
List $57.00
Price $49.99


Artistic Pursuits High School Art Book 2:
Color and Composition (3rd Edition)
ISBN-13:9781939394095
Artistic Pursuits High School Book 2 Color and Composition gives students an in-depth look at color theory and how artists use the color wheel.
Features of Artistic Pursuits High School Art Book 2
Features step-by-step instruction and hands-on art projects
This one-year high school art course has 68 lessons.
Eight units explore the element of color and another eight units study composition as it relates to color. The emphasis in this level is on European art.
The text is non-consumable.
Another level for high school is available: ARTistic Pursuits High School Art 1.
Each level is a one-year course.
Brenda Ellis wrote both courses.
High school courses are flexible in that you could take two years to do both books.
If your student prefers, you can do one semester of art each year for four years.
---
More ARTistic Pursuits Courses at Lamp Post Homeschool