A Complete Bible Curriculum With a Plan and Everything You need!
Includes everything you need with the texts, exercises, projects, review, and tests.
Bible 11 Set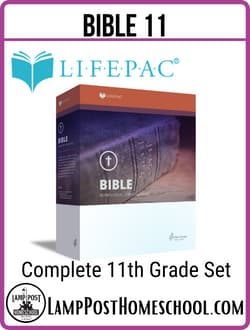 LifePac 11th Grade Bible Set
Item #BIB1115
Price $108.00
Use Coupon Code
DiscountAOP for the best discount
Off List Price


LIFEPAC Bible 11 Boxed Set
Publisher: Alpha Omega Publications
Item #BIB1115
ISBN-13: 9781580956321
Features of the LIFEPAC Bible 11
Uses

King James Version

of the Bible with the

LIFEPAC Bible

curriculum.

Study Bible philosophy and content from the "Evangelical Protestant" viewpoint.
Cover seven major themes are covered in this Bible curriculum:
Theology, Attributes of God, Biblical Literature, Biblical Geography, Christian Growth, and Christian Evidences.
Go deeper with LIFEPAC Bible curriculum for students in 11th grade.
Learn with a Christian mastery-based Bible worktext curriculum.
Use Coupon Code DiscountAOP to get the best available discount off list price on LifePac Bible Curriculum at Lamp Post Homeschool.**
Mix and match grade levels or find out more about the individual LIFEPAC subjects: Language Arts, Math, Science, and Electives.
In the LIFEPAC Bible 11 Set, there are 10 Student LIFEPACs and a Teacher's Guide with teaching tips and answers.
Your student will study the following units:
Faithfulness of God
Romans
Doctrine of Jesus Christ
Nation of Israel
History of the Canon
Friendship, Dating, and Marriage
Pursuit of Happiness
Apologetics and God
His Word and the Christian Life
Grade 11
Price $108.00
Use Coupon Code
DiscountAOP for the best discount
Off List Price


---
More LIFEPAC Courses at Lamp Post Homeschool
LIFEPACs® is a registered trademark of Alpha Omega Publications.
**The discount will be taken off the in the shopping cart after you apply the homeschool coupon code. Add in one time to discount on all Alpha Omega Curriculum including Horizons, LIFEPACs, and Calvert curriculum in your shopping cart. Can not be combined with any other coupon codes and excludes items marked clearance.