We started this homeschool journey with hopes, and fears.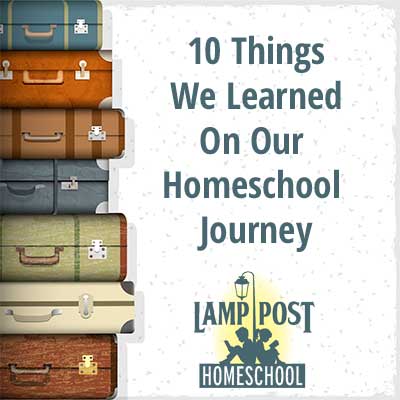 Here's what we learned:
Children are sinners like everyone else. #Bummer
They will mess up. #BubblePopper
Our job is to teach them to love God and love others. #ThereIsHope
Homeschooling won't save them, but it will help to equip them to follow God. #TrueStory
We learned a lot, lot, lot about grace and mercy. #Humbled
If we all survive the "stupid phase**" there will be some wonderful young adults who are responsible citizens of the universe. #WaitForIt
I have a better idea (but nowhere close to the real deal) of how God feels when His children mess up or succeed. #BigPicture
It hurts when people say homeschoolers have an inferior education—particularly when they excel in college–but that is "public school competitive me" talking. :-) #ForgiveTheNaysayers
God does protect children in public school when they don't have a choice to homeschool. (I know #HomeschoolBlasphemy, but it is true. I've seen it.) #LightenUpPeople
There are many wonderful public and private school teachers out there who "man" the front lines. Please pray for them. Their jobs are much harder than ours will ever be. They can make a difference in a child's life. They are blessings. #EyeOpener
Homeschooling is the best gift you will ever give to your child. Keep on homeschooling!
Keep on homeschooling!

Blessings,
Harriet
**It is when (if) your teen/young adult goes through a time of making poor choices, even though they know better. I really believed if we homeschooled, taught them about God, and they accepted salvation they would avoid that phase. Each one is different. Some learn from their mistakes faster than others. #Patience This too shall pass.
Complete Curriculum at Lamp Post Homeschool