Help! There Isn't A Homeschool Support Group Where I Live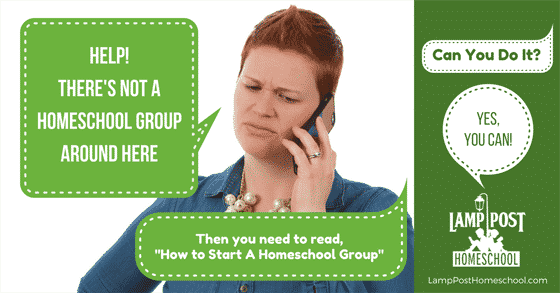 Start by checking with your state's homeschool support group. Find it by putting your state name and the words, "homeschool support group" in your favorite search engine. You should be able to find a group nearby.
If You Don't Find One, Start A New Homeschool Support Group
All you have to do is find one other homeschooling family. Plan a get together for an educational purpose and you have a group! It is amazing how fast word gets around.
In another few years, you might have a group that is large enough to have a high school basketball team.
But I live in a remote area. The closest group is an hour or two away.
If you live in a remote area, you will have to drive a distance to meet with your group. Maybe you can plan activities at the halfway point. You can email other parents for support between meetings. It is worth the trip even if it is only once a month.
When we moved into our area over twenty-five years ago, there were about six known families. Half of them drove an hour to get to the events.
Today, there are groups in all major towns in our county. We still have families that commute from even smaller remote towns to attend homeschool group events in our area. Don't worry if your group splits into two or more groups. Growth at the cellular level is by division. It's pretty natural when a group gets large for a small group of members with mutual interests to break off into a separate group. Don't let your feelings get hurt. Encourage one another.
Don't fret if your group splits into two or more groups at some point. Look at biology—growth at the cellular level is by division. It's pretty natural when a group gets large for a small group of members with mutual interests to break off into a separate group. Don't let your feelings be hurt. Encourage one another. When a family doesn't fit with your group, encourage them to try another one that can meet their needs better.
Today our area has groups that range from a highly coordinated successful homeschool co-op to some pretty laid back homeschool groups.
I am the only homeschooler I know around here.
That is a little more difficult and will require a little more effort but it is still easy if you are patient. Pray with your children and ask the Lord to show you other homeschooling families. Then read the next question.
How do I start a homeschool support group?
Name your group (Your Town Homeschool Support Group or Christian Homeschoolers of Your Town or County, etc.)
Find a meeting place. You could start in your home if you feel comfortable with entertaining folks. Churches are usually willing to let you use their facilities for free—unless it is a large event that requires services in which case there may be a small fee.
Set a time and date.
Select a meeting topic. It could be as simple as: Starting a homeschool support group!
Plan for coffee, herb tea, and some munchies. This gives folks some time to fellowship and bond!
Plan for no children at your first meeting; though nursing babies are usually welcome at most homeschool events I have attended. Later you can make arrangements for allowing children if you like. Some groups like making this a #ParentsNightOut. Others offer homeschool activities for the children.
Advertise the event. There are lots of free possibilities.
Leave flyers at your local bookstores, churches, grocery stores, etc.
Send an announcement to your local newspapers and radio stations. Have contact information in case folks want to call for directions.
Contact the folks at your state homeschool support group and let them know you are starting a group. They will usually post it on their website. You can use your phone number or set up an email address for the contact information.
Make a group on a social media page such as MeWe or Facebook.
But I am not a leader type
If you do this you are now a leader! It is not that difficult. I wasn't a "leader type" when I started homeschooling. The last thing I ever thought I would be was a homeschool motivational writer and speaker, and yet that is what I do! I have learned that being a leader means that you are usually the one who is willing to serve and do.
One thing leads to another. If you do one little step at a time, you won't realize that you have climbed that huge mountain named, "Impossible Thing I Haven't Ever Done Before" until you are there and realize it wasn't so hard after all.
If you offer a homeschool support group, they will come
Ok, no one shows up at the first meeting. Enjoy your coffee and quiet time, submit another request to God about raising up homeschoolers in your area, and plan the next meeting.
It is not about numbers. It is about being patient. Maybe the people God means to add to your group are presently in the "thinking about home-schooling" phase. We knew one family who wanted some homeschooling families in their large church. They prayed about it for a year to two. A few years later their church had the most homeschooling families of any church represented in our group!
Hope this helps.
Blessings,
Blessings,
Harriet
Permissions
This is copyrighted material. You are granted permission to copy it for your own use and not for resale. If you wish to use it in your support group newsletter, we ask that you include the following information at the end of the article:
Copyright 2020 Wynne and Harriet Yoder, All rights reserved
Lamp Post Homeschool
1741 Tallman Hollow Road
Montoursville, PA 17754
570-435-2804
LampPostHomeschool.com