Traditional Coverage of World History in a Complete Homeschool Kit for High School
Written with a secular perspective, the Houghton Mifflin Harcourt World History Homeschool Package ©2018 includes the Student Text, Online Student Resource Package, and Online Teacher Resource Package.
Homeschool Package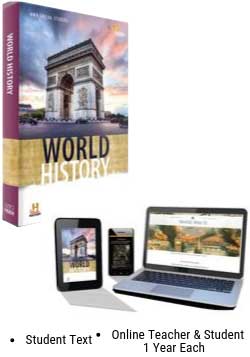 HMH World History Kit
Publisher: Houghton Mifflin Harcourt
ISBN-13: 9780358062271
High School
Price $93.60


2018 HMH Social Studies World History Homeschool Package
The HMH World History Homeschool Package ©2018, a secular-based high school world history curriculum, contains one of each of the following items:
Student Edition Textbook 9780544668225
Offers comprehensive content coverage through an engaging narrative supported by compelling and instructive visuals.
Digital Access Subscriptions (1-year) includes one of each item:
(NOTE: The digital access components are not available for individual purchase yet. You need to purchase a Homeschool Kit for each student.)
Online Student Resource Package 9780358243243
The Online Student Edition resides on a responsive learning system, enabling it to function across operating systems and devices. Features:
• Audio—Provides support for struggling readers and auditory learners.
• Highlighting and Note-taking
• Access to Reading Study Guide, Interactives, and more.
Online Teacher Resource Package 9780358243342
1. Discover—Quickly access content and search program resources.
2. Plans—Organize resources and create plans.
3. Assignments—Create assignments and track progress of assignments.
4. Data & Reports—Monitor student's daily progress.
NOTE: This is a print and digital homeschool kit. Digital components come with a 1-year subscription. You will receive your digital access from hmh_digital_access@hmhco.com.
HMH World History 2018 Table of Contents
1 The Beginnings of World History
2 Early River Valley Civilizations
3 People and Ideas on the Move
4 First Empires in Africa and Asia
5 Classical Greece
6 The Roman World and Early Christianity
7 India and China Establish Empires
8 The Muslim World
9 Empires in East Asia
10 The Early Middle Ages
11 Church and Society in Western Europe
12 Societies and Empires of Africa
13 People and Empires in the Americas
14 The Renaissance
15 Reformation and Upheaval
16 Expansion, Exploration, and Encounters
17 Absolute Monarchs in Europe
18 Enlightenment and Revolution
19 The French Revolution and Napoleon
20 Revolutions Sweep the West
21 The Industrial Revolution
22 An Age of Democracy and Progress
23 The Age of Imperialism
24 Transformations Around the Globe
25 World War I
26 Revolution and Nationalism
27 Depression and Crisis
28 World War II
29 Cold War Conflicts
30 The Colonies Become New Nations
31 Struggles for Democracy
32 Global Interdependence
Price $93.60


---