Study PA History With A Literature-based Course (Ebook on CD)
Author Susan Kemmerer wrote Keystones 2 Pennsylvania state history study for junior and senior high students in home school.
E-Book on CD
Keystones 2 Pennsylvania History for High School E-book on CD
Item #pakey2-ebook
Keystones 2 is simply designed and easy to use. It is a literature-based unit study on Pennsylvania History.
The study is built around seven separate units – each of which can stand alone.
If you complete all seven units in their entirety, you will have achieved the following:

A 1/2 credit in US history and/or
A 1/2 credit in Pennsylvania state history
A 1/2 credit in literature (or 6-7 additional books to add to your reading list)
A 1/2 credit in creative writing with a lengthy research paper and several optional writing opportunities."

NOTE: This is an Ebook on a CD which will be shipped to you. It is not a download.
The Keystones 2 Pennsylvania State History for High School e-Book on CD comes with files for:
Daily Lesson Plan
Activity Sheets (Charts, Maps, and Timelines)
Additional compositions
Special reading assignments and reprints of historic literature.
Step-by-step instruction in writing a research paper (This is optional, you may choose to do book reports instead.)
A unit on government
Keystones 2 Pennsylvania History requires additional books which are available below. If you prefer to find the books at your local library, please note that Free Indeed and Reuben are harder to find. Check first so you can purchase them together to combine the shipping.
This guide is a pdf version on CD. Readers for pdf files are available for Windows and Macs as free downloads.
The required books include: Free Indeed, The Johnstown Flood, Ben Franklin of Old Philadelphia, Reuben (Back in Print!!), and Hostage on the Nighthawk (Only available as an e-book at the publisher's website.)
Grades 9-12
Ben Franklin of Old Philadelphia
Ben Franklin of Old Philadelphia
ISBN-13: 9780394849287
From the publisher: "Benjamin Franklin was one of the busiest men in the American colonies. He was a printer, a postmaster, an inventor, a writer, and a diplomat. When the Revolutionary War began, Ben supported America in the Continental Congress. Like the clever adages from his Poor Richard's Almanac, Ben Franklin still sets an example for Americans today."
The Johnstown Flood
Reuben
Reuben
ISBN-13: 9780836135930
Reuben is the story of an Amish youth shows the Amish culture.
What's New?
Pennsylvania Dutch glossary at the end of the book
Has a sample chapter from the next book in the Elle's People series
Language and examples updated for today's readers
Free Indeed
*Free Indeed Heroes of Black Christian History
ISBN-13: 9780890848432
Free Indeed has biographical sketches of thirteen leading black Christians as well as an overview of black church history.
It is used in Keystones 2 and also supplements the American Republic.
Hostage on the Nighthawk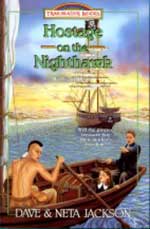 Hostage on the Nighthawk
Trailblazer Books
ISBN-13: 9780764222658
This book is out of print, and we are out of stock.
Hostage on the Nighthawk is available as an e-book at the publisher's website.
You may be able to find it at your local library or as a used copy.