Provide Complete Coverage of the CCSS for 2nd Grade Math
Note: On Core Mathematics is going out of print. Copies available while our supply lasts.
Aligned to the Common Core State Standards, this is a secular-based second-grade math course (no religious affiliation.)
Grade 2 Package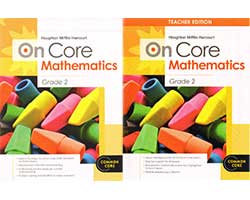 List $37.40
CLEARANCE $29.99


On Core Mathematics Grade 2 Package
Publisher: Houghton Mifflin Harcourt
ISBN-13: 9780547872391
Features:
Flexibility to teach lessons in any order as needed.
If required by your state, it helps prepare your student for national assessments.
Helps develop procedural, application, and critical thinking skills.
The On Core Mathematics Grade 2 Package contains one of each of the following items.
On Core Mathematics Grade 2 Teacher Edition 9780547591193
On Core Mathematics Grade 2 Student 9780547575193
The Teacher Edition for Grade 2 features:
Additional instructional resources for teachers needing lessons on specific standards or parts of standards.
Includes teacher support for every lesson.
Easy to follow lessons plans for all 108 lessons in the Student Worktext.
Each lesson has small versions of student pages with answers overprinted in red for easy grading.
A reference column to quickly find:

Common Core Standard number
The student workbook pages
An objective
An essential question
Vocabulary
Materials needed for the lesson
Prerequisites

Each lesson has

About the Math background info.
Introduction.
Teach the lesson info.
Practice suggestion.

Softcover with 112 pages printed in B&W
The On Core Mathematics Grade 2 Student Worktext features:
Perforated pages for easy removal.
Lessons that are two pages each.
Directions at the bottom of each page.
Softcover with 216 pages printed in B&W.
Topics covered in On Core Mathematics Grade 2 include:
Operations and Algebraic Thinking
Numbers and Operations in Base Ten
Measurement and Data
Geometry
These are higher level names for math topics, but it's all basic first-grade math.
Grade 2
List $37.40
CLEARANCE $29.99


---
More Math at Lamp Post Homeschool