Provides Complete Coverage of the CCSS for Geometry
Aligned to the Common Core State Standards, this is a secular-based geometry course (no religious affiliation.)
Note: On Core Mathematics is going out of print. Copies available while our supply lasts.
Geometry Package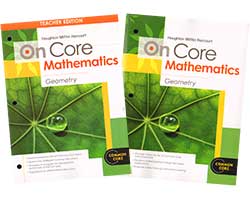 On Core Mathematics Geometry Package
ISBN-13: 9780547873923
Features of On Core Geometry:
Flexibility to teach lessons in any order as needed.
If required by your state, it helps prepare your student for national assessments.
Helps develop procedural, application, and critical thinking skills.
The On Core Math Geometry Package contains one of each of the following items.
On Core Mathematics Geometry Teacher Edition 9780547617244

On Core Mathematics Geometry Student Worktext 9780547575308
The Teacher Edition for Geometry features:
Additional instructional resources for teachers needing lessons on specific standards or parts of standards.
Teacher support for every lesson.
Easy to follow lessons plans for all the lessons in the Geometry Student Worktext.
Each lesson has small versions of student pages with answers overprinted in blue for easy grading.
Lessons include:

Common Core Standard for the lesson
Vocabulary
Prerequisites
Math Background
Introduction
Teach the lesson info
Examples

Softcover with 360 pages printed in B&W with blue for emphasis
The On Core Mathematics Math Student Worktext features:
Perforated pages for easy removal
Interactive lessons with examples and practice problems
Softcover with 360 pages printed in B&W with blue for emphasis
Topics covered in On Core Math Geometry include:
Lines and Angles
Transformations
Congruence and Triangles
Quadrilaterals and Polygons
Transformations and Similarity
Trigonometry
Circles
Geometry Using Coordinates and Equations
Linear Area Measurement
Three-Dimensional Figures and Volume
Probability
Grade 10