Cover Traditional Math Concepts One Lesson at a Time with Bob Jones Math 3
There are reviews at the end of each chapter.
Short reviews are sprinkled through the lessons, but lessons cover one topic at a time.
Great for the student who needs to focus on a concept in order to learn it—no skipping around.
It is available in a homeschool kit with all the components for one student and one teacher.
Math 3 Homeschool Kit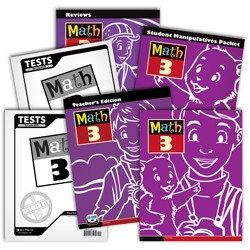 BJU Press Math 3 Kit 3rd Edition
Item #bju511733
The Bob Jones Math 3 Homeschool Kit, 3rd Edition, includes one of each of the following:
Math 3 Teacher's Edition/CD has 165 lessons with bulleted instructions for teaching with manipulatives to develop math understanding and problem-solving skills. Review activities provide a spiraling review. The Teacher's Toolkit CD has reproducible pages for reteaching, enrichment, and facts practice, the teacher's Visual Packet, and the Math 3 Reviews Answer Key (only on this CD).
[#250720, ISBN-13: 9781591667711]
Math 3 Student Worktext has 2 practice pages for each lesson. There is a review of previous work at the end of each second page. Each chapter includes a Chapter Review and a Cumulative Review.
[#296798, ISBN-13: 9781606828137]
Math 3 Manipulatives Packet is colorful and printed on a sturdy heavier paper. Perforated with easy removal. Use the manipulatives with the lessons in the worktext. We suggest that you keep them in a large envelope once you remove them.
[#231688, ISBN-13: 9781591665151]
Math 3 Reviews provides two review pages for each lesson to reinforce learning. The answers to these reviews are on the Teacher's Toolkit CD that comes with the Teacher's Edition.
[#231670, ISBN-13: 9781591665137]
Math 3 Tests have 19 chapter tests that are similar to the corresponding Chapter Review pages in the Student Worktext. Consumable for one student.
[#231720, ISBN-13: 9781591665168]
Math 3 Tests Answer Key has answers to the 16 chapter tests overprinted in bold type on exact copies of the student tests.
[#231746, ISBN-13: 9781591665175]
Third Grade
More BJU Press Math Courses at LampPostHomeschool.com