If your homeschool student needs more instruction or wants more practice in spelling, give Apples 1 a try. [Features]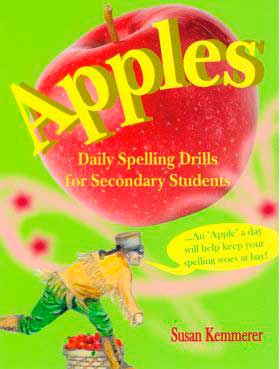 Apples Daily Spelling Drills
For Secondary Students
List $14.95


Apples Daily Spelling Drills for Secondary Students
ISBN-13: 9780975854303
Apples Daily Spelling Drills has one-page "drills" to help your student. Don't think of them as a word drill! I would call them fun exercises the help with spelling. They don't look babyish, and they are short and sweet.
Features of Apples Daily Spelling Drills for Secondary Students
I had to take a few minutes to think about all the spelling courses we've ever used to appreciate the Apples Daily Spelling Drills.
Susan Kemmerer has done an excellent job of creating a spelling drill book for children who don't do well with traditional spelling programs.
Gone are the weekly spelling list, the boring, repetitive exercises, the loser feeling that comes with the weekly spelling tests.
Check out Sample Pages at the publisher's website.
Grades 5-12
List $14.95


---
More Spelling at Lamp Post Homeschool