If your homeschool student needs more instruction or wants more practice in spelling, give Apples a try. [Features]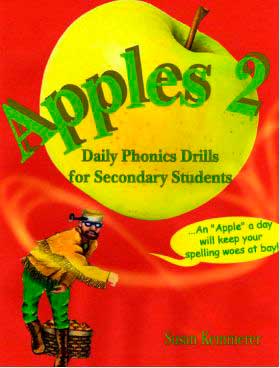 Apples 2 Daily Phonics Drills
For Secondary Students
List $14.95


Apples 2 Daily Phonics Drills For Secondary Students
ISBN-13: 9780975854372
Apples differs from any other spelling program and considers the unique needs of poor spellers. Apples 2 Daily Spelling Drills for Secondary Students follows the same format as the original Apples.
Features of Apples Daily Spelling Drills for Secondary Students
Weekly Lessons:
Introduce a spelling rule (called a clue) to study for the entire week.
Apply the rules to puzzles, fill-in-the-blank, complete-the-Bible-verse exercises.
Teach your student to recognize misspelled words in sentences with carefully controlled vocabulary and specific rules.
Provide practice to aid memorization of words that do not follow a rule (especially long-vowel words).
Incorporate innovative, real-life exercises such as check writing (for the spelling of numbers) and addressing envelopes (for common abbreviations and punctuation in addresses).
Reinforce some lessons from Apples 1 (about 1/3 of the book repeats difficult rules from the previous year – giving poor spellers the valuable reinforcement they need)
Introduce several new phonics rules.
Help your student memorize the spellings of common words in a low-stress, non-threatening manner.
It includes everything you need—even a convenient answer key and a helps section. Apples 2 is easy to use—only 10 minutes a day. There are no extensive lists or tests to further demoralize the poor speller—just application of spelling rules in an encouraging Scripture-sentence-or-puzzle.
Check out Sample Pages at the publisher's website.
Grades 5-12
List $14.95


---
More Spelling Curriculum at Lamp Post Homeschool