The Watering Place: Come and be Filled with Encouragement for Homeschooling.
Homeschool Sowing and Reaping by Harriet Yoder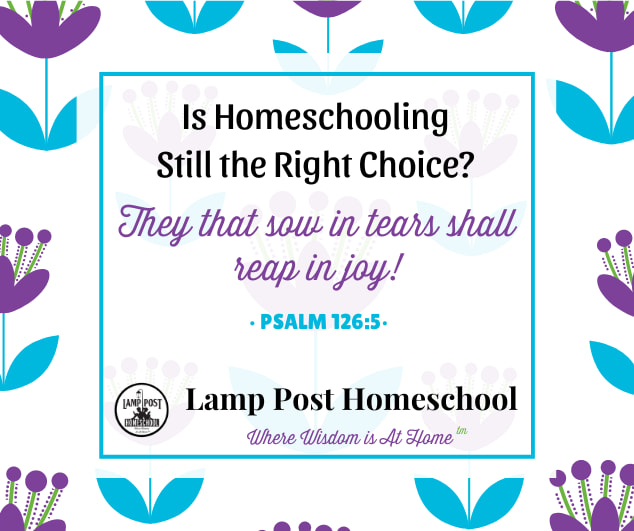 For plants, winter is a time for resting, spreading roots, and preparing for new growth. For homeschooling parents, winter can be a time of walking in the valley, wondering why am I doing this, and feeling discouraged.
Take heart and keep in mind that you aren't the first to feel this way and won't be the last. To prepare for new growth next year, your homeschooling winter can be a time of resting, digging in, and examining your successes and failures.
There is good news and hope for the future, no matter how things look at this moment. If you are training up your children for the Lord, He is blessing your endeavor, though you may not see it now.
Is Homeschooling Still the Right Choice?
I think most homeschooling parents have wondered if we are making the right choice in training our children, especially when we are new at it and perhaps have relatives, friends, or others who don't agree with us. From experience, I know that time will tell. When children are young, it is hard to see a difference between children who are homeschooled and those who aren't. However, when they reach the teen years, the benefits of homeschooling will be more noticeable. As my older children reached those years, the criticism either turned to praise or disappeared.
Sow in Tears, Reap in Joy
"They that sow in tears shall reap in joy"

Psalm 126:5 KJV
In my early years of homeschooling, I cried many tears and said many prayers over that issue. Now that our children are adults out in the real world, we are reaping the joy of having completed part of my task. What do you think would have happened if we had listened to the people who told us we were making a horrible mistake and depriving our children?
Amazingly, our children are well-adjusted, caring, servants of the living God. He knew from the start that He was entrusting these precious babies to imperfect parents who would make plenty of mistakes. And mistakes we made but, praise God, He applies His mercy and grace to our meager efforts of training up our children in the way they should go. I am confident that they will not depart from it as His word promises.
Minister to Our Children
"Even as the Son of man came not to be ministered unto, but to minister…"

Matthew 20:28 KJV
A servant lives to serve his master. He places the value of the master's life above his own. As we feel led by God to teach our children at home, we need to die to self. Homeschooling involves sacrificing those activities we would rather do—for those we are called to do. It requires a determination to do what is best for the training of our children and a commitment to put to death our selfish desires. It is choosing to minister to our children for our Master. It's an act of love in every way—to our children, to future generations, and to our Heavenly Father!
Rest in the Lord
"Be still, and know that I am God."

Psalm 46:10 KJV
Rest in the Lord. Hide in the shelter of His wings. Let Him teach you to hear His voice. Quit striving to be "school" and trust in God to teach you to train your children. Lean on Him each day. Ask Him what He wants you to teach your children today. It is much easier and ever so much more productive to seek Him first.
Yes, you are making the right choice to homeschool your children!
Permissions
This is copyrighted material. You are granted permission to copy it for your own use and not for resale. If you wish to use it in your support group newsletter, we ask that you include the following information at the end of the article:
Copyright 2023 Wynne and Harriet Yoder, All rights reserved
Lamp Post Homeschool
1741 Tallman Hollow Road
Montoursville, PA 17754
570-435-2804
LampPostHomeschool.com