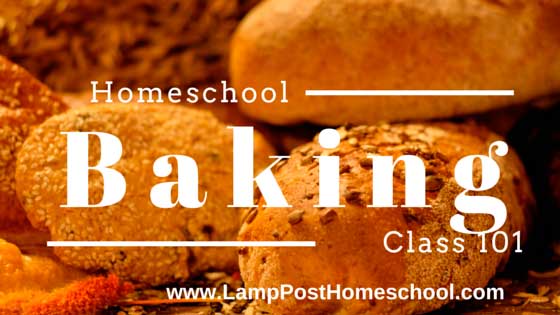 Baking bread counts for homeschooling. Yes, it does! When you homeschool, everything is a teaching and learning experience. Homeschool baking class may not look like a classroom, but learning is happening. Here are some ways to count it for school.
The Family That Bakes Together
When we make bread, everyone helps. A little bit of dough will keep a toddler's little hands busy. Our mixer makes dough for 5-6 loaves at a time. We usually freeze some dough–takes less space and provides hot goodness later.
Baking bread creates lots of happy and funny memories. Once I left the filter off the grain mill. Can you picture wheat flour flying all over the kitchen? Our children have baked bread and sold it to make money for Christmas gifts. It is a great family experience. They got orders, bought the ingredients, cooked all day and late into the night. The next morning they delivered all the orders of the day. The children worked together as a team and shared in the profits.
I guess you aren't surprised that the whole experience counts for school. Here are ways to log Homeschool Baking Class 101.
Math: Measuring, multiplying, telling time, and calculating order totals
Home Economics (or Consumer Science): Baking bread, kneading dough, food storage, etc.
Science: Learning about yeast counts for life science or biology
Entrepreneurship: Marketing; designing order forms, business cards, product labels; business math; product pricing
PE: Yup, running around to deliver products–I don't mention why, just that they ran
Character Development: Working all day and staying up late to finish orders builds character. Working as a team and keeping the peace builds character. Getting up early to make deliveries builds character. Cleaning up the kitchen after the great baking day builds character, too!
When we have family reunions, someone always brings up the baking bread days. Laughs and happy memories flow.
Do you have baking days that you count for school? What are your best moments when your family bakes together? We would love to hear your stories.
Blessings,
Harriet