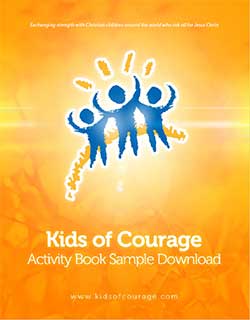 Did you know that there is a website for the children's version of the Voice of the Martyrs, the website that keeps us informed about the persecution of Christian believers around the world.
It's called Kids of Courage and is appropriate for children.
"Kids of Courage materials convey the struggles endured by persecuted Christians without including graphic descriptions or photos, or age-inappropriate concepts. Nevertheless, parents and teachers are encouraged to preview the materials before sharing them with their own children, as they know their children best."
Free Bold Believers activity books in the Downloads section of the Kids of Courage site provide information about many unique subjects. (See Sample Pages here. Note: You will need to register at the site for the free downloads.)
Using these free resources is a great way to supplement a world history or geography course when you study.
Hope this helps!
Blessings,
Harriet
Christian Worldview and Logic Curriculum at Lamp Post Homeschool