A Complete Christian Curriculum on USB for the Windows® Operating System
It is a complete curriculum in a USB format for students who work at the computer.
Based on their LIFEPAC curriculum, this interactive, multimedia learning environment has been updated with more videos and animations, sound clips, and approved web links.
Use Coupon Code DiscountAOP for the maximum allowable discount off the list price on all Alpha Omega Curriculum at Lamp Post Homeschool.**

Please note that all software purchases are non-returnable for any reason. Alpha Omega provides excellent tech support.
Requirements
Features of Switched-On Schoolhouse™
Advanced Lesson Planning-Customize and edit quickly.
Assignment Screens-Student screen shows the assignments. Parent screen allows editing of the assignments.
Automatic Grading-About 85% of the assignments are graded and recorded with the click of the mouse.
Automatic Curriculum Updates-Course revisions are automatically updated via internet. Or you can request update CD.
Bible Translation Options-include choice of KJV or NAS Bible.
Book Reports-for grades 3 to 8 for enrichment.
Built-in Global Calendar-Customize your calendar to meet your schedule. (Block out dates for holidays, field trips, etc.)
Custom Curriculum-Combine, add, remove units and assignments.
Electronic Flash Cards-To build your homeschool student's vocabulary
Historical Timelines-A click on a linked date in the lesson takes your student to a timeline where the topic is shown on a timeline.
Individual Weekday Scheduling-Ability to choose which days of the week a subject will be assigned.
Instant Audio Feedback-Allows positive reinforcement immediately when a student answers a question.
Language Building Games – Moon Match, Vocabulocity, and Spelling Bee
Math Games – Flashcards, math drill games, and Operantics (to improve mental math skills)
Message Center-Internal message system between student and parent/teacher.
Multimedia and Learning Activities-Extras to reinforce learning.
Personal Journal-Your student can keep a personal journal.
Practice Lessons-Teach your student how to use the Switched-On Schoolhouse program.
Printing Options-print entire assignments, lessons, vocabulary lists, problems, and records from your printer.
Resource Center-Helpful resources.
Student Mode-Allows student to customize homepage and other options.
Text-to-Speech-highlight the text and it is read aloud. Reading voice options are available.
Videos-educational videos enhance lessons.
Zero Out Option-If you need to give a zero grade.
Read more about it:
Note
You might want to consider how long you want your student working in front of a computer monitor. Also, most of the pages can be printed out for reading away from the computer if you want to furnish a printer, ink, and paper.
I've had good feedback from customers who are using Switched-On Schoolhouse™ for one or two subjects. They chose subjects that were difficult for them to teach. One favorite comment is, "It grades the work for you!" My children have loved the Science and Health Quest.
The type of students who would benefit most from using the Complete Switched-On 5 Course Curriculum includes the following.
Homeschool students with extreme allergies (if they can be around a computer)
Those with special needs who use a computer instead of books (Text to Speech can help)
Children of missionaries or parents who travel extensively and extremely limited storage space. It's very portable with a laptop.
Techie homeschool students who love "anything computer."
Older homeschool high school students who need to work independently most of the time because parents are dealing with life challenges that reduce teaching time.
SOS Placement Tests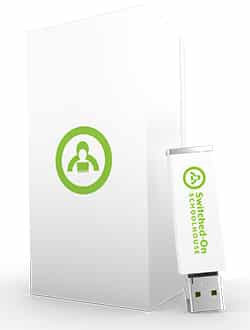 Price $19.95
Use Coupon Code
DiscountAOP for the best available discount
Off List Price on this item.


Switched-On Schoolhouse Diagnostic Tests
Item #uSOSDT
This single kit contains tests to ensure students are properly placed within SOS Schoolhouse grade levels.
Diagnostic/placement tests on the USB Flash Drive are available in Bible, Math, Science, Language Arts, and History for grades 3 to 12.
---
Switched-On Schoolhouse Curriculum
**The discount will be taken off the in the shopping cart after you apply the homeschool coupon code. Add in once to get the discount on all Alpha Omega Curriculum including Horizons, LIFEPACs, and Switched-On Schoolhouse. Can not be combined with any other coupon codes and excludes items marked clearance.