24 Audio Stories About Outstanding Individuals
Save on Heritage of Our Country and Patterns of Destiny CDs during our sale at Lamp Post Homeschool!
Play these CDs in the car when you are driving places.
Children will be entertained and educated at the same time.
Supplement your history studies and help your auditory learners with the Patterns of Destiny CDs.
Patterns of Destiny CD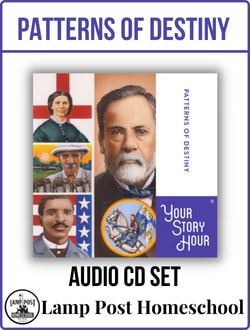 Patterns of Destiny
Volume 7 Audio CD Set
Publisher: Your Story Hour
ISBN-13: 9781600790294
List $45.00
Price $39.95


Patterns of Destiny Volume 7 Audio CD Set
Twenty-four true life stories about Joan of Arc, John Bunyan, Albert Schweitzer, George Mueller, Florence Nightingale, Discovery of Anesthesia, Clara Barton, Louis Pasteur, Dwight L. Moody, John Wanamaker, George Washington Carver, and Keith Argraves.
The Patterns of Destiny Set includes 12 CDs.
Titles on Patterns of Destiny Volume 7 include:
The Girl General—Joan of Arc 1
Joan and the Dwarf—Joan of Arc 2
The Valiant Stepmother—John Bunyan story
Pilgrim's Progress—Christian's walk through life
The Boy Becomes the Man—Albert Schweitzer 1
Oganga's Home—Albert Schweitzer 2
The Changed Life—George Mueller 1
Man of Faith—George Mueller 2
The Angel of Crimea—Florence Nightingale
The Man who Conquered Pain—Discovery of anesthesia
Two Girls in One—Clara Barton 1
Angel of Mercy—Clara Barton 2
Solving the Riddle—Louis Pasteur 1
Man Against Microbe—Louis Pasteur 2
Mad Dogs—Louis Pasteur 3
The Strange Case of Moody, Watch & Spy Sir Wilfred T. Grenfell and his dog team
Dwight L. Moody, God's Man—Boyhood 1
Dwight L. Moody, God's Man—Early years as an evangelist 2
Dwight L. Moody, God's Man—Moody's preaching & later years 3
Honest John Wanamaker—Honesty in business pays
Carver's George—George W. Carver 1
Why the Peanut?—George W. Carver 2
Suicide Mission—Keith Argraves 1
Prisoners of War—Keith Argraves 2
List $45.00
Price $39.95


---
More Your Story Hour CDs at Lamp Post Homeschool