Dramatized New Testament Bible Stories From Your Story Hour
Inspiring and wholesome Bible stories are available on audio CDs.
Bible Comes Alive Album #5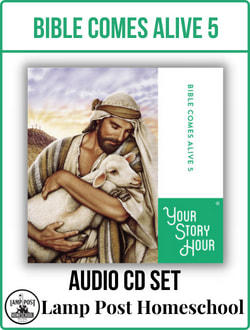 Bible Comes Alive CD Album 5
Publisher: Your Story Hour
ISBN-13: 9781600790270
List $45.00
Price $39.95


Album 5 Bible Comes Alive CD Set
The Volume 5 Bible Comes Alive CD includes 12 CDs with twenty-four stories.
The Power of a Mother's Faith—Jesus and Phoenician woman; feeds 4000
The Great Secret—Mount of Transfiguration. Temple tax
Encounters in Jerusalem—Religious leaders try to trap Jesus
The Man Who Lived Twice—Lazarus is resurrected
Citizens of Heaven—Jesus & children, heals sick, tests young ruler
Jesus and Mr. Too Short—Zacchaeus
Cheers for the King—Jesus' triumphal entry
The Great Clash—Second cleansing of the temple
A Night to Remember—The last supper
Betrayed—Night in Gethsemane
The Trial—Jesus on trial
The Road to Skull Hill—Crucifixion
A Promise to Keep—Resurrection and Ascension of Jesus
The Strange Case of Blind Bart—Jesus heals blind Bartimaeus
The Believers—Early Christian believers
The Cheaters—Ananias and Sapphira
The First Christian—Martyr Stephen is stoned
Saul of Tarsus—Saul converted
Dangers at Damascus—Saul regains sight
The Eloquent King—Peter delivered from prison
The Man who Turned Back—John Mark
At Philippi—Paul and Silas start ministry
The Aged Paul Shipwrecked—Paul shipwrecked on way to Rome
The Runaway—Slave Paul converts Onesimus
Paul and Nero—Paul on trial
Features of Your Story Hour CDs
Play in the car on long trips with the children.
The Bible Comes Alive CD Series is a great supplement to Bible and history studies.
Listening to these stories can help build character.
Save on Bible Comes Alive CD Series during our sale at Lamp Post Homeschool!
List $45.00
Price $39.95


---
More Your Story Audio CD Albums at Lamp Post Homeschool