Dramatized Old Testament Bible Stories From Your Story Hour
Enjoy inspiring and wholesome Bible stories from the Old Testament are available on audio CDs.
Bible Comes Alive Album #3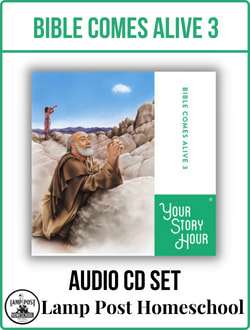 Bible Comes Alive CD Album 3
Publisher: Your Story Hour
ISBN-13: 9781600790256
List $45.00
Price $39.95


Album 3 Bible Comes Alive CD
The Volume 3 Bible Comes Alive CD includes 12 CDs with twenty-seven stories.
Midnight on the Hill of Hachilah—Loyalty to Saul
David Seeks a Home—David goes to Philistia
The Battle of Gilboa—Witch of Endor; Saul's death
Surprise Attack—David seeks revenge for Ziklag
The Coronation—David made king
A Tunnel to Success—David captures Jerusalem
The King and the Ark—David and The Crippled Prince—Mephibosheth
A Prophecy Fulfilled—David avenges national insult
David's Great Sin and Repentance—David and Bathsheba
Absalom, the Rebellious Prince 1—Conspiracy against David
Absalom, the Rebellious Prince 2—Defeat and Death of Absalom
A Victory Turned to Mourning—David mourns the death of Absalom
The Hermit and the King—Parable of life
The Fourth Son of David—Adonijah tries to usurp the throne
The Last Days of David—Death of David
The Three Transgressors—Adonijah, Joab, and Shimei
The Wise King—Solomon
The Kingdom Divided—Solomon's kingdom divided
And then It Rained—Ahab and Elijah
The Flying Chariot—Elijah taken to heaven
The Woman of Shunem—Elisha brings child to life
Captive Maid—Naaman healed of leprosy
The Invisible Army—Elisha captures the Syrian army
The Mystery of the Disappearing Army—Syrian army besieges Samaria
The Mystery of the Backward Moving Sun—Isaiah and King Hezekiah
The New Queen—Esther
The Forgotten Reward—Haman plots Mordecai's death
Features of Your Story Hour CDs
Play in the car on long trips with the children.
The Bible Comes Alive CD Series is a great supplement to Bible and history studies.
Listening to these stories can help build character.
Save on Bible Comes Alive CD Series during our sale at Lamp Post Homeschool!
List $45.00
Price $39.95


---
More Your Story Audio CD Albums at Lamp Post Homeschool