Your transaction was successfully completed!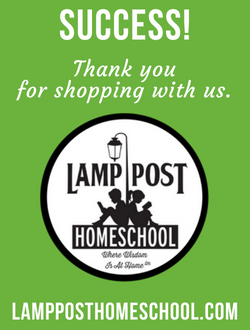 Watch your email for the receipt for your purchase.

Note: Overzealous mail filters sometimes put our email receipt into a junk folder.
We will gladly re-send your email receipt if you let us know.

We'll email tracking information once we ship your order.
EBOOK AND DIGITAL SUBSCRIPTION INFORMATION
Check the instructions below, but feel free to contact us if you don't receive your product(s) in a timely manner.
COMMON SENSE PRESS E-BOOK ORDERS

Please allow up to one business day to receive your link via email.
It might take longer on holidays or weekends as these are not automated.

HMH ONLINE DIGITAL SUBSCRIPTIONS

Please allow 2 business days to process and receive your link (via email) for Holt, Mcdougal, and HMH (Houghton Mifflin Harcourt) online editions.

Please add this email address to your contacts.
hmh_digital_access@hmhco.com
You will receive your digital access from that address.
Check your junk folder or search your email for hmhco.com.

SWITCHED-ON SCHOOLHOUSE on USB

Keep your box and papers that come with it.
To install it, you need the serial number from the flyer.

PARADIGM DIGITAL DOWNLOADS

Please allow 2-3 business days to receive your email with the link.

SAVVAS LEARNING COMPANY (Formerly Pearson K12 Learning)

NOTE: The Homeschool Digital Access Card comes in your print package.
Please locate it as soon as you open your package(s).
It has the instructions you need to access your online digital content on the Savvas Realize™ Digital Platform.
Also note: Your Order Number is needed when you apply for access.
It is located on the label on the box.
If you misplaced it, please contact us and we can help.
Questions About Your Order:
There are several ways to contact us with questions about your order.
Sign up for our customer portal where you can see your orders, update your profile, and check your email subscription.
Register for Customer Portal at Lamp Post Homeschool You can also log in here or get a new password.
Call 570-435-2804 with your order number. Please leave a message if it goes to voicemail.
Hit the reply button in your confirmation email, or
We appreciate your business!
Thank you for shopping at Lamp Post Homeschool.
Wynne and Harriet Yoder