Traditional Coverage of Ancient Civilizations in a Complete Homeschool Kit
Written with a secular perspective, the Houghton Mifflin Harcourt World History: Ancient Civilizations Homeschool Package ©2019 includes the Student Text, Online Student Resource Package, and Online Teacher Resource Package.
Homeschool Package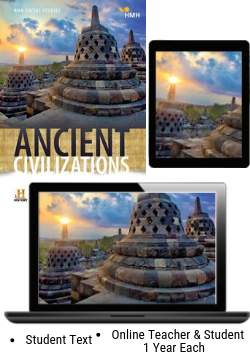 Ancient Civilizations
2019 HMH World History
Homeschool Package
Publisher: Houghton Mifflin Harcourt
ISBN-13: 9780358062202
Grades 6-8
Price $93.60


2019 HMH Social Studies World History: Ancient Civilizations Homeschool Package
The HMH World History: Ancient Civilizations Homeschool Package ©2019, a secular-based middle school world history curriculum, contains one of each of the following items:
Student Edition Textbook 9780544669215
Offers comprehensive content coverage through an engaging narrative supported by compelling and instructive visuals.
Digital Access Subscriptions (1-year) includes one of each item:
(NOTE: The digital access components are not available for individual purchase yet. You need to purchase a Homeschool Kit for each student.)
Online Student Resource Package
The Online Student Edition resides on a responsive learning system, enabling it to function across operating systems and devices. Features:
• Audio—Provides support for struggling readers and auditory learners.
• Highlighting and Note-taking
• Access to Reading Study Guide, Interactives, and more.
Online Teacher Resource Package 9780358242994
1. Discover—Quickly access content and search program resources.
2. Plans—Organize resources and create plans.
3. Assignments—Create assignments and track progress of assignments.
4. Data & Reports—Monitor student's daily progress.
NOTE: This is a print and digital homeschool kit.
Digital components come with a 1-year subscription.
You will receive your digital access from hmh_digital_access@hmhco.com.
HMH World History: Ancient Civilizations 2019 Table of Contents
1   Uncovering the Past (450 BC -Present)
2   The Stone Ages and Early Cultures (5 million years ago-5000 years ago)
3   The Fertile Crescent, Mesopotamia, and the Persian Empire (7000-480 BC)
4   Kingdoms of the Nile (4500 BC-AD 400)
5   Ancient India (2500 BC-AD 500)
6   Ancient China (1600 BC-AD 1)
7   The Hebrews and Judaism (2000 BC-AD 70)
8   Ancient Greece (2000-330 BC)
9   The Hellenistic World (343-30 BC)
10 Ancient Rome (753 BC-AD 476)
11  The Growth of Christianity (AD 1-400)
12  Civilizations of Eastern Europe (D 300-1480)
13  The Rise of Islam (AD 550-900)
14  Early African Civilizations (500 BC-AD 1600)
15  Later Chinese Dynasties (589-1644)
16  Japan (550-1868)
17  Cultures of South and Southwest Asia (1299-1857)
18  The Early Americas (12,000BC-AD 1537)
19  The Middle Ages (500-1500)
20  The Renaissance (1271-1600)
21  The Reformation (1492-1650)
22  The Scientific Revolution (1525-1725)
23  The Age of Exploration (1400-1650)
24  Enlightenment and Revolution (1642-1831)
Price $93.60


---
Houghton Mifflin Harcourt® and HMH® are registered trademarks of Houghton Mifflin Harcourt.