Ticks are problematic in our neck of the woods. I'm hearing reports of increasing amounts of tick-associated disease in Pennsylvania. It's hitting home as we have a young friend who was diagnosed with Lyme Disease a few months ago. Not every tick bite causes an illness, but keeping them out of your yard helps to prevent them.
Helping to Prevent Tick-Associated Disease By Avoiding Ticks in Your Own Backyard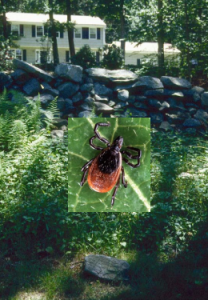 This article from the CDC has basic information about how to avoid ticks.
This article from the The Connecticut Agricultural Experiment Station in New Haven, where they have more experience with Lyme Disease, has more in-depth details about landscaping and tick control.
Tick Management Handbook An integrated guide for homeowners, pest control operators, and public health officials for the prevention of tick-associated disease.
Are There Ticks Where I Live?
If you want to know if ticks and tick-associated diseases are a problem in your area, this link shows the geographic distribution of different types of ticks and the associated diseases in the USA.
Update July, 2014
We had our yard and surrounding area sprayed for ticks last year. I've definitely seen a lot less this year. Perhaps it's weather related, or maybe last year was a very bad tick year. In any case, we'll spray again when it's time.
Hope this helps someone today.
Blessings,
Harriet