A Complete Language Arts Grade 2 Course: The Parts of Speech—Makes it easy to homeschool!
This is a one-year Christian mastery-based language arts worktext curriculum available in boxed sets for second grade. A worktext is a combination of a student text and a workbook. It's smaller and easier to handle than a large textbook. [Features]
Language Arts 2 Set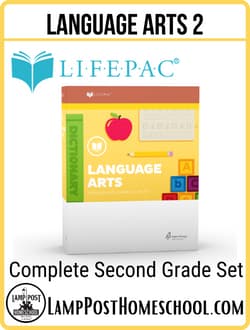 Language Arts 2 Set
LifePac 2nd Grade
Item #LAN0215
Price $108.00
Use Coupon Code
DiscountAOP for the best discount
Off List Price on this item.


LIFEPAC Language Arts Second Grade Set
Item #LAN0215
ISBN-13: 9780740319440
Features of Language Arts 2 Boxed Sets
The Language Arts 2 Set includes a teacher's guide and ten student worktexts.
Each LIFEPAC® Language Arts 2 worktext includes the subject text, exercises, projects, review, and tests.
Each LIFEPAC Language Arts 2 Teacher's Guide has answer keys, alternate tests, assignment instructions, supply lists for projects and experiments, and suggestions for more activities.
Conveniently boxed for easy storage of all the components.
Structure and goals for each lesson are in the Teacher's Guide.
Phonics is a major part of LIFEPAC Language Arts until third grade.

Includes spelling.

Penmanship skills instruction starts cursive writing instruction in second grade.
Use Coupon Code DiscountAOP to get the best discount off list price on LIFEPAC Language Arts Curriculum at Lamp Post Homeschool.**
Topics in LIFEPAC Language Arts 2 include
Know Your Nouns
Action Verbs
Simple Sentences
Types of Sentences
Using Punctuation
Adjectives
Possessive Nouns
Pronouns
Verb Types & Tenses
Parts of Speech &

Word Parts

Review
Grade 2
Price $108.00
Use Coupon Code
DiscountAOP for the best discount
Off List Price on this item.


---
More LIFEPAC Courses at Lamp Post Homeschool
LIFEPAC® is a registered trademark of Alpha Omega Publications,
**The discount will be taken off the in the shopping cart after you apply the homeschool coupon code. Add in one time to discount on all Alpha Omega Curriculum including Horizons, LIFEPACs, and Calvert curriculum in your shopping cart. Can not be combined with any other coupon codes.