Update: Grades 1 to 8 of Learning Langage Arts is being updated to a new 3rd Edition! We are in the process of adding the new editions. Some second editions are still available at clearance prices—first come, first served.
Let me start by saying, we used this with our children. Now some of them are homeschooling their children, and some are still in college. As you can see, we've been doing this a LONG time. I am pleased to share this with you!
Back to the original review: The biggest reasons we love the LLATL program are:
It offers an integrated approach: this will save you money as opposed to buying a separate program for each subject
It relieves you and your children from "book flipping": LLATL covers grammar, spelling, vocabulary, composition, handwriting, reading, and literature resources…all in ONE book!
Multilevel study is possible: more than one grade level can benefit from the same program
My children find it enjoyable and very instructive: at times when the lesson calls for a paragraph, my children will write a page. They enjoy the lessons!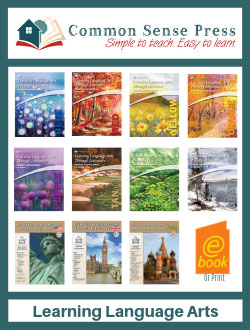 You will find that LLATL is an affordable alternative to buying separate texts for grammar, spelling, vocabulary, handwriting, and composition student and teacher texts. If you think your child needs extra attention to any particular area, it is easy to supplement for that specific subject. For example, if a child is having difficulty with penmanship, I can reinforce with an additional handwriting text. Doing that is still saving money compared to the expense of buying all of the subjects separately.
It is a blessing to me that LLATL is teacher/ parent-friendly and again that it is all in one book. That just makes it easier on all of us and especially in the poetry units; I find that my children want to do the required composition and poetry writing. They naturally give more than is expected: that is a beautiful thing to see as a parent! We all hope that our children will develop a love for learning. Learning Language Arts Through Literature encourages that in my children.
The 5-part lesson layout allows for flexibility during your week. At the first of the week, we go through the lesson together. I work with them on the dictation, choose spelling words, and go through each part. If I feel that they can do a part without my attention, I assign it for them to do alone. Sometimes we skip an exercise that was already learned. We finish up later in the week, checking their work and finishing up the lesson. Being divided into five parts, you can easily choose to do one part a day, but my children requested that we do longer sessions.
A Note of Encouragement Regarding Dictation
True confession #1: I put off using this series BECAUSE of the dictation which I thought was not that big a deal.
True confession #2: I must now confess that dictation is the neatest thing since sliced bread. It is a big deal.
Dictation of the short literature passage to the students allows them to develop listening skills, practice spelling, handwriting, and grammar, and build confidence. The listening and penmanship skills required for dictation are the same skills necessary for note taking in college. Dictation also provides a non-threatening environment for putting spelling and grammar skills to use. With dictation they have to figure out spelling, punctuation, and capitalization but they don't have to compose at the same time. Dictation is like glue that makes all those grammar rules stick to the brain!
Book Studies
From Grade 3 on each level uses from 3 to 6 books (most use 4). All are available in paperback at reasonable prices, or they can be borrowed from the library. (At Lamp Post we offer the book sets in the Grade 3 and up LLATL book studies for purchase with a 10% discount if you buy a complete book study set).
One thing about the LLATL that I would change if I could is to include coordinating student text page numbers in the teacher pages. That's a pretty minor thing considering the overall quality of the product, but I find myself wishing for that quick page reference instead of directing them to Lesson 12, section 3, part b. Just a tiny thing I would change if they asked for my feedback.
---
Learning Language Arts Through Literature Curriculum