Wilmos Csehy Musical Messengers CDs and Heartstrings Biography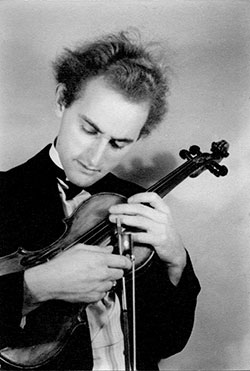 Born with exceptional musical talent, Wilmos Csehy (1914-1983) performed publicly as a violinist at the age of four.
By the time he was a teenager Wilmos Csehy had the opportunity for a brilliant musical career but turned down secular celebrity to apply his musical gifts to sacred music. His classical interpretation of familiar hymns inspired people in cities and villages across the continent as he toured with the Csehy Musical Messengers.
Heartstrings
Csehy Musical Memories CD
Christmas Favorites CD
Reviews of Heartstrings A Biography of Wilmos Csehy
"Barbara Sutryn has caught the Csehys' musical excellence, Christian vision, servant's heart, and superb integrity. Heartstrings chronicles a vibrant and enduring chapter of Kingdom music evangelism and instruction across the country and around the world."
"From my youth when my parents spoke enthusiastically of hearing the Csehys at Bible conferences through the two years I ministered at the Summer Music Schools at Muncy Terraces, I was grateful for their incredible musical abilities and Christian dedication."
From Rev. David M. Virkler, Evangelist
"I will never forget the ministry of the Csehy's.  As a boy, they were often in our church and home!   I am delighted that at last his contribution to the cause of Christ has been so interestingly chronicled in this book!"
From Dr. Joseph M. Stowell, President, Moody Bible Institute
"As a director of the ministry that bears the name of Wilmos Csehy and carries out his vision, I am daily reminded of his passion to reach people for Christ and his passion for music.  This account of his life has confirmed my impressions of him from our meetings some thirty years ago and has deepened my appreciation for his commitment to Christ."
From Randy Haynes, Director, Csehy Summer School of Music
About the Csehy Summer School of Music
Since 1962, Csehy Summer School of Music has seen thousands of young musicians live out the dream, and catch the vision, of Wilmos Csehy. His desire to reach young people for Christ and have them develop their musical gifts to be used for God's glory comes to fruition each summer at camp and throughout the rest of the year as the young people minister in their churches, schools, and communities.
Today, the Csehy Summer School of Music which he founded gives both vocal and instrumental training to junior and senior high school students during its summer sessions at Houghton College.