Wilmos Csehy Musical Messengers CDs and Heartstrings Biography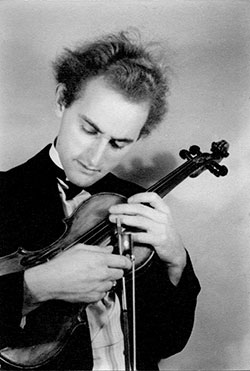 Born with exceptional musical talent, Wilmos Csehy (1914-1983) performed publicly as a violinist at the age of four.
By the time he was a teenager Wilmos Csehy had the opportunity for a brilliant musical career but turned down secular celebrity to apply his musical gifts to sacred music. His classical interpretation of familiar hymns inspired people in cities and villages across the continent as he toured with the Csehy Musical Messengers.
Heartstrings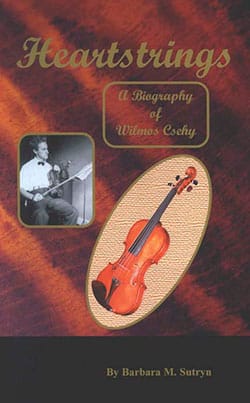 Heartstrings A Biography of Wilmos Csehy
ISBN: 9781892135339
In Heartstrings, Barbara M. Sutryn has compiled a rich treasury of the personal memories of people whose lives were enriched by working with Wilmos Csehy, as well as the historical facts provided by Wilmos' wife and musical partner, Gladys Csehy.
About the Author
Barbara Sutryn, the author of Heartstrings: A Biography of Wilmos Csehy, is a freelance writer whose work appears in Christian periodicals such as Focus on the Family, The War Cry, Light and Life, Evangel and Power for Living.  Her book, The Sign Painter (Tyndale House), is inspirational fiction.
Csehy Musical Memories CD

Csehy Musical Memories CD Commemorative Edition, Volume 1
Featuring the Music of The Csehy Musical Messengers
Item #780093200241
From hymns to the semi-classical, the music of the Csehy Musical Messengers is now available on this first commemorative CD.
"Music crossed the boundary lines of Hungary, Prussia, and the United States to bring together three gifted artists, uniting their talents to produce an excellent musical treat."
"Mr. Csehy made these brilliant and bewildering arrangements of hymns he loved, featuring double stopping, arpeggios, scales, trills, and harmonics that make the violin sing the songs that, once heard, will linger in your memory.  These songs were reproduced from studio recordings made between 1950 and 1965 and preserved for your enjoyment."
Violin students will appreciate listening to his expert playing. They might learn some new techniques!
Author Barbara Sutryn recommends listening to this CD while you read Heartstrings for the full Csehy experience!
The song list includes:
God of Our Fathers
Face to Face
Jesus Led Me All the Way
Londonderry Air
Something For Thee
Jesus, the Very Thought of Thee
Abide With Me
Go Down, Moses
If with All Your Heart
O Zion, Haste
He Is Not Willing
The Great Physician
From Greenland's Icy Mountains
The Ninety-and-Nine
Jesus Shall Reign
Jesus Is All The World to Me
All Hail to Thee
Immanuel
He Hideth My Soul.
Christmas Favorites CD

Csehy Musical Messengers Christmas Favorites CD
Item #780093200678
Reproduced digitally from the original recording by the Csehy Musical Messengers, Christmas Favorites includes Joy to the World, Gesu Bambino, Ivory Palaces, Angels We Have Heard on High, What Child is This, Away in a Manger, Sweet Little Jesus Boy, Silent Night, Thou Didst Leave Thy throne, O Holy Night, Jesu, Joy of Man's Desiring, and There's a Song in the Air.
If you have a young violin player at home, this CD will fill the air with virtuoso violinist Wilmos Csehy's excellent music.  With piano, organ, cello and vocal accompaniment, the Csehy Musical Messengers music is classic!
"Music says things that words cannot express."
"This was undeniably true of the Csehy Musical Messengers.  On this reproduction of their original Christmas record, you will enjoy the musical artistry of Wilmos Csehy and his party."
"On this recording, Mr. Csehy was accompanied by Mrs. Csehy at the piano, Ruth Ohman of the WPEL staff of Montrose Pennsylvania, organist, and Italian cellist, Tony Canistraci, soloist and symphony member from New York City."
Reviews of Heartstrings A Biography of Wilmos Csehy
"Barbara Sutryn has caught the Csehys' musical excellence, Christian vision, servant's heart, and superb integrity. Heartstrings chronicles a vibrant and enduring chapter of Kingdom music evangelism and instruction across the country and around the world."
"From my youth when my parents spoke enthusiastically of hearing the Csehys at Bible conferences through the two years I ministered at the Summer Music Schools at Muncy Terraces, I was grateful for their incredible musical abilities and Christian dedication."
From Rev. David M. Virkler, Evangelist
"I will never forget the ministry of the Csehy's.  As a boy, they were often in our church and home!   I am delighted that at last his contribution to the cause of Christ has been so interestingly chronicled in this book!"
From Dr. Joseph M. Stowell, President, Moody Bible Institute
"As a director of the ministry that bears the name of Wilmos Csehy and carries out his vision, I am daily reminded of his passion to reach people for Christ and his passion for music.  This account of his life has confirmed my impressions of him from our meetings some thirty years ago and has deepened my appreciation for his commitment to Christ."
From Randy Haynes, Director, Csehy Summer School of Music
About the Csehy Summer School of Music
Since 1962, Csehy Summer School of Music has seen thousands of young musicians live out the dream, and catch the vision, of Wilmos Csehy. His desire to reach young people for Christ and have them develop their musical gifts to be used for God's glory comes to fruition each summer at camp and throughout the rest of the year as the young people minister in their churches, schools, and communities.
Today, the Csehy Summer School of Music which he founded gives both vocal and instrumental training to junior and senior high school students during its summer sessions at Houghton College.