A Great Music History Elective
Learn more about famous composers and their music with Accents on the Great Composers 2.
Study the lives 22 great composers in volume 2
Listen to the music of those great composers (CD included)
Reproducible pages as PDFs.
Included for each composer is:

A biography, a portrait, types of music composed, a timeline, and more
A listening example
A Review—to use as a test, if needed.

A reproducible listening guide with:

information about each musical example
a guide to what to listen for

Lay-flat comb binding book
Multi-level teaching is doable.
Accent on Composers 2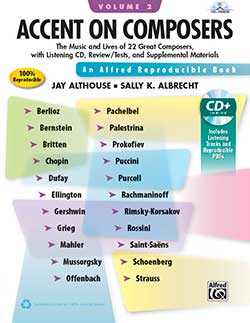 Accent on Composers Volume 2 Book and CD
ISBN-13: 9781470611279
With Accent on Composers Volume 2, your students will study 22 different composers from the 15th century to the 20th century.

Samples of Accent on Composers Volume 2 
Study these composers: Berstein, Rimsky-Korsakov, Offenbach, Saint-Saens, Mussorgsky, Grieg, Puccini, Mahler, Strauss, Rachmaninoff, Schoenberg, Pachelbel, Rossini, Chopin, Gershwin, Ellington, da Palestrina, Berlioz, Prokofiev, Britten, and Dufay.
Recommended for ages 11 through adult
More Music Curriculum at Lamp Post Homeschool