Lifepac Spanish 2 Boxed Set Grades 9-12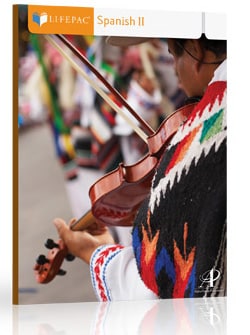 LIFEPAC Electives Spanish 2 Set with CDs
Item #ES9916
Want to build your child's Spanish skills? Try LIFEPAC Spanish II for grades 9-12!
This colorful, consumable world language course will build your child's knowledge of intermediate Spanish.
Learn to read, write, and understand more complex Spanish words and sentences by practicing fun conversations and dialogue.
LIFEPAC workbooks are small magazine size booklets—easy for students to read and complete.
The audio CDs will help with learning conversational skills and correct pronunciation.
The LIFEPAC Spanish 2 Set with CDs has 10 LIFEPACs, a Teacher's Guide, and audio CDs.
Requisite: The student should have already taken an introductory Spanish course or be familiar with the Spanish language.
For grades 9-12, this course is a year-long course for 1 credit in Jr. or Sr. High.
More Foreign Language Courses at Lamp Post Homeschool