All You Need to Teach Fourth Grade History at Home~Calvert History 4 Kits
There are ten colorful Student Books and a Teacher's Guide in the easy-to-use complete history kit. Calvert makes it easy to teach homeschooling history & geography in 4th grade.
Calvert History & Geography 4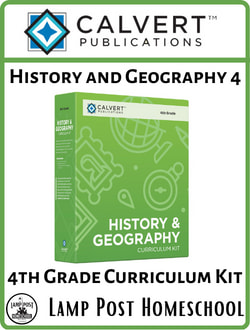 Price $144.00
Use Coupon Code
DiscountAOP for the best discount
Off List Price


Calvert History & Geography 4 Complete Curriculum Kit
Publisher: Calvert Publications
ISBN-13: 9780740341823
Calvert 4th Grade History & Geography presents an in-depth overview of planet earth, and then moves on to explore the different regions and the countries, climate and geography that make up our planet.
Ten engaging workbooks present lessons on Our Earth, Seaport Cities, Desert Lands, Grasslands, Tropical Rainforests, Polar Regions, Mountain Countries, Island Countries, North America, and a review unit.
Since each self-paced unit can be completed in as little as three to four weeks, students experience a sense of accomplishment at the completion of each one!
In addition, regular self-tests and an end-of-unit test provide assessments of student progress.
An essential teacher's guide provides important teaching supplements, such as instructional notes and answer keys, as well as additional resources and activities.
The Calvert History & Geography 4 Complete Kit includes one of each of the following items:
Ten Student Workbooks Calvert History & Geography 4:
New Words and Words To Study vocabulary lists show the definition and pronunciation of each word.
Vocabulary words are highlighted in the text.
Map activities to improve map skills.
Tests are included in the back of each workbook. (Remove and set aside before giving book to your child.)
Teacher's Guide Calvert History & Geography 4 provides:
Scope and Sequence for this course.
Step-by-step teaching instructions for all 160 lessons
Each lesson includes an introduction, specific learning objectives, a materials list, a vocabulary list, and assignments/activities.
Reproducible duplication master for unit review activities
Answer Keys
Lots of ideas for additional activities designed to reinforce essential social studies concepts!

4th Grade
Price $144.00
Use Coupon Code
DiscountAOP for the best discount
Off List Price


---
More Calvert Curriculum Kits at Lamp Post Homeschool
**The discount will be taken off the in the shopping cart after you apply the homeschool coupon code. Add in one time for discount on all Calvert curriculum in your shopping cart. Can not be combined with any other coupon codes.