Discounts on Curriculum All Year Long at Lamp Post Homeschool
At Lamp Post Homeschool you won't miss any homeschool specials (with some exceptions).
Why? We discount our prices year round, where publishers allow. It takes the pressure off of you to make purchases in a hurry. It gives everyone the best price we can offer all year long.
How long do our sales last? Sales with a time limit are noted on the product page. Our goal is to keep sale prices all year long or until publishers change their prices. Most publishers change prices across the board about once a year or less. Such price changes usually happen around September or from January to March.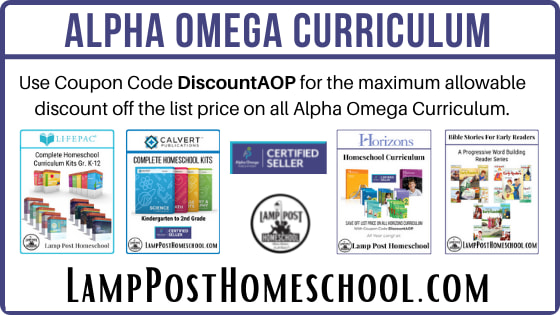 Homeschool Coupon Codes
Use Coupon Code DiscountAOP to get the best available discount off list price on all Alpha Omega curriculum at Lamp Post Homeschool.**
$6.99 Flat Rate Standard Shipping On Prepaid Orders to the continental US.
We're offering $6.99 flat rate standard shipping on any prepaid order shipping to the continental U.S. Standard shipping is via USPS media mail.
WANT IT FASTER?
Homeschool Coupon Code Information
Be sure to put the homeschool coupon codes in on the shopping cart page.
Our shopping cart accepts more than one code, but only one per item.
For each category, you only need to add the code once.
Each code applies to all items in that category.
LIFEPAC® is a registered trademarks of Alpha Omega Publications.
**The discount will be taken off the in the shopping cart after you apply the homeschool coupon code. Add in one time to discount on all Alpha Omega Curriculum including Calvert, Horizons, and LIFEPAC curriculum in your shopping cart. Can not be combined with any other coupon codes.