Henty Audio Books Review
Curriculum Review by Harriet Yoder
At last! I can give my auditory learners an unabridged Henty book on MP3 audio CD for a reasonable price! They can follow along in the book—word for word—when they listen to a Henty Book on CD from Jim Hodges Productions!
My husband and sons listened to the recordings and decided they want to hear more! I know that my voice gets tired reading chapter books aloud to the children. Now I can save my voice for the questions the children ask as they listen.
They are also great for car trips! Haven't you found that when the juvenile passengers' ears are occupied, they tend to be on their best behavior? Don't you love it when you can count car trips as an educational experience?
Jim Hodges has a good reading voice–one that is durable and expressive, not annoying. That may sound funny, but my children hate it when the reader's voice is overly dramatic or irritating. His pronunciation is excellent, and his voice is strong. It's a pleasant voice you can listen to for a long time! According to Mr. Hodges, "Younger students can follow along in the book as they listen. They are a great way to learn pronunciation, inflection, vocabulary, and a love for reading!"
Reading While Listening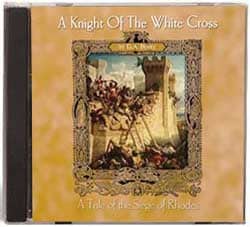 Now that we have three children listening to Jim Hodges audio books while reading along in the matching Preston-Speed unabridged Henty book, it's easier to see what a great learning tool this is. Besides receiving the benefits of reading a historical Henty book, students practice following along in the book as they listen. They learn the correct pronunciation of new and unusual words. Hearing and seeing the words helps students to learn spelling and vocabulary. It also helps to increase reading comprehension. This multi-sensory learning method enables a younger child with high reading comprehension and slow oral reading skills to "read" a higher level book without the frustration of sounding out every difficult word.
About the MP3 CDs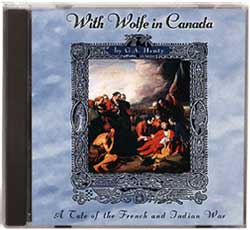 Each of the Henty Books on Audio titles is a complete, unabridged recording of a classic G. A. Henty historical novel, produced on an MP3 file format CD and professionally packaged in a standard 'jewel' case with shrink-wrap."
Find out more at the Jim Hodges Productions' website, Henty Books on Audio FAQs. (This link opens in a new window.)
Download a free audio chapter of the book you are interested in at Jim Hodges Audio Books. (This link opens in a new window.)
Jim Hodges Audio Books On MP3 CD